This post may contain affiliate links which means I receive a small commission at no cost to you when you make a purchase. As an Amazon Associate, I earn from qualifying purchases.
We love hands on science! This week, we are learning about the water cycle. I created this 1 week science lesson plan to give you a break from having to plan everything. I hope it helps! Please email me if you would like to see these lesson plans for other subjects! 🙂 My email is slapdashmom AT gmail.com.
These science resources are perfect for middle school, or grades 4 through 8 depending on your child's level. The videos I chose are mostly for younger kids, but I did this because I like to keep homeschooling fun. My daughter loses interest rather quickly when I pop on a documentary about a new topic, unless it's something she really was begging to learn about. You can use YouTube to search for more grade appropriate videos if you so choose! 🙂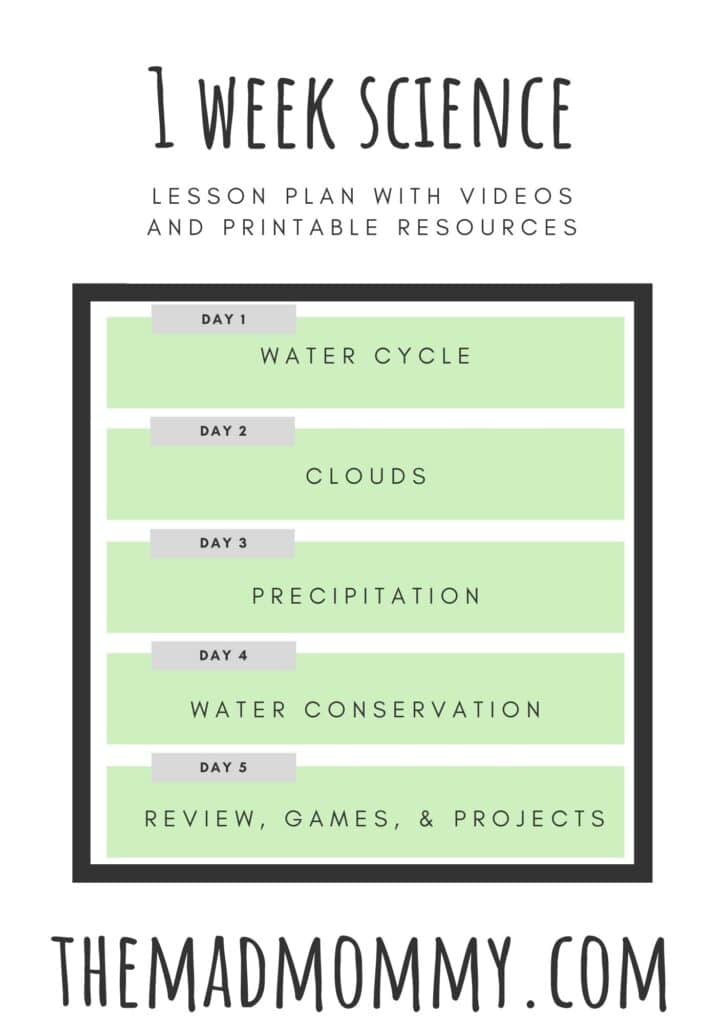 Week 1: Water Science
I've included a printable guide, and a project and/or time filler for each day. Homeschooling only takes a few hours a day. The time fillers are helpful to allow the kids independent work time so I can get things taken care of around the house and for my business. 🙂 Need more time fillers? Read this post about using Alexa in your homeschool. She keeps my kiddos busy for hours!
If you feel this is too much work for one subject, just choose a few worksheets or resources to work on each day. The beauty of homeschooling is what your child learns is completely up to you – and them! My 13 year old lovvvves math so she spends most of her time learning math right now. Science is something we spend about 20-30 minutes a day on. Whatever works for your homeschool is what I want you to do!
Homeschooling multiple grades? It's totally okay to have the older kids help the younger kids! Everyone in the family can study these science topics, working at their own pace and on their own level.
Day 1: Water CYCLE
Question to start the day: What is the water cycle? Tell me about it!
Video: Water Cycle Video & Quiz
Resources: Water Cycle Power Point
Printable guide: Water in the Atmosphere Lesson Plan
Worksheets: Daily Weather Report | Research Template & Resource Websites
Water Cycle Worksheets | Label the Water Cycle
Time fillers: Earth Science Coloring Book | Water Crossword Puzzle | Water Cycle Coloring Pages
Day 2: Clouds
Question to start the day: What are clouds?
Video: GLOBE Observer Cloud Science
Resources: Clouds and Precipitation Slide Show
Printable guide: Clouds
Projects: Create a cloud in a jar | Cloud scavenger hunt | Weather Watch Cloud Tracker
Experiment: Water Cycle Experiment (simple) | Cloud in a Bottle
Worksheets: Name that Cloud | Types of Clouds | Cloud Formation
Time fillers: Cloud Doodle Sheet | Cloud Journal
Day 3: Precipitation
Question to start the day: What is precipitation?
Resources: Precipitation on Earth | Interactive Precipitation Slide Show
Projects: Measuring Precipitation | Snow Gauge | Rain Gauge
Worksheets: Precipitation Worksheets
Time fillers: Snow Observation Website
Day 4: Water Conservation
Question to start the day: Why is water conservation important?
Resource: Water Conservation Lesson Plan
Project: Water Roll (Where should the water go? Great for younger kids.)
Printable guide: Water Conservation
Worksheets: Ways to Conserve Water | Water Use Around the World (with Scientific Notation)
Time Fillers: Every Drop Counts Workbook | Water Conservation Game
Day 5: REVIEW
I love this day! Anything your kids were really interested in, touch on those topics again. Go as in depth as they want to. You can even choose a topic (like weather) and extend it into next week. I love child-led learning because they're going to put MUCH more effort in if they're able to follow their passions. Day 5 is all about reviewing what you learned over the week.
I love this water cycle school project! Watch the video to learn more about how to do this project yourself. Mix it up and make it your own by using materials you already have on hand.
This Water Cycle Activity Guide helps you set up and manage a stop motion animation project about the various elements of the water cycle.
Resources:
Print your free lesson plan calendar by clicking on the image below. 🙂
Amazon and the Amazon logo are trademarks of Amazon.com, Inc, or its affiliates.