Chicken Cream Cheese Casserole: Quarantine Edition
This post may contain affiliate links which means I receive a small commission at no cost to you when you make a purchase. As an Amazon Associate, I earn from qualifying purchases.
I posted a sneak peek of this chicken casserole a few moments after I came up with the idea, and a kind friend asked if I had named my concoction yet. I hadn't. But, I'm all for practical so this is now called chicken cream cheese casserole. The key to this delicious dish is using ingredients you have on hand that taste yummy together … like corn and potatoes. 🙂
Easiest Chicken Cream Cheese Casserole
The point of this recipe is to use what you have on hand. This isn't a complicated dish at all and it truly is something you throw together a few minutes before the kids start screaming about what's for dinner. We've been in the house for what seems like a year at this point, and I have surgery coming up so we can't go out any time soon. The pantry is full of food, but none that I want… of course.
By the way, this was a huge win with Sapphire… she loved it!
If you don't want to risk a dry casserole, I highly suggest adding some cream of mushroom soup if you have any on hand. Or, you could make a sauce of sorts with butter and Parmesan, but again, I used what I had on hand. Work with me here.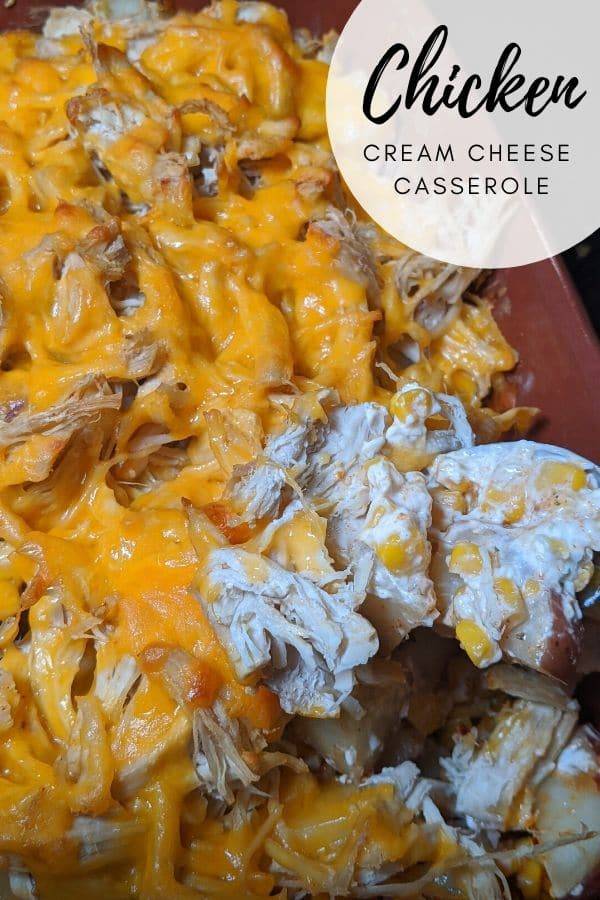 Ingredients:
chicken
herbs and spices
potatoes
corn
cream cheese
shredded cheese
This casserole isn't healthy, but I really don't think casseroles are supposed to be healthy. I can't be the only one putting on the Freshman 15 while in Quarantine. If you're looking for something healthy, visit my husband's blog: Smiley's Points. 🙂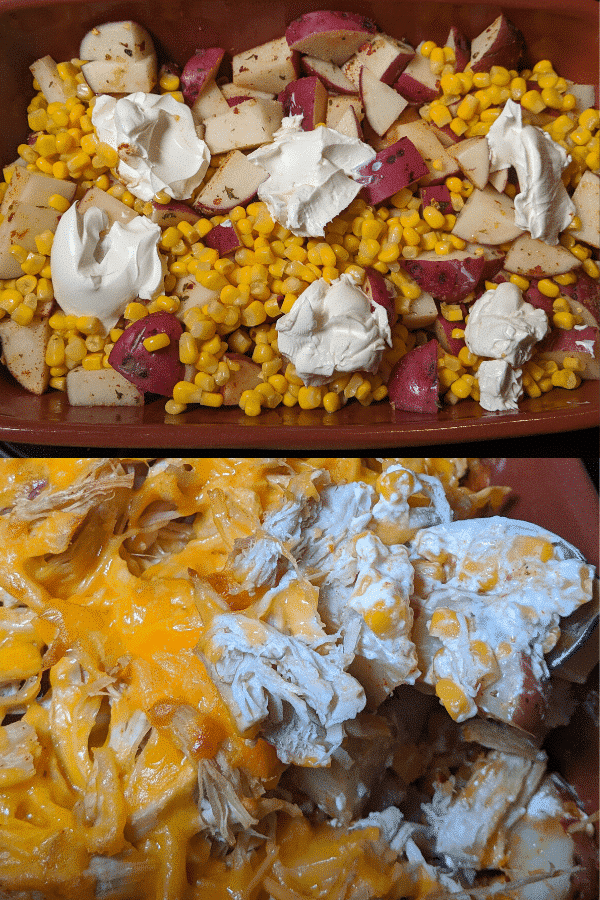 Directions:
If you're the type of person who needs exact measurements, this isn't the recipe for you. I chopped up enough red potatoes to fill a casserole dish. After I cut them up, I tossed them in a mix of garlic, smoked paprika, and pepper flakes from Flat Iron Pepper Co.
Add the potatoes to the casserole dish. Top with corn or whatever veggies you have on hand. Broccoli would taste awesome in this dish! Or asparagus! Yum.
Top with cream cheese… or ranch… or whatever. It's Quarantine Edition, do what you want. 😉
While the potatoes are baking (next step), cook the chicken. I did this in the Instant Pot. The chicken was ready as soon as the potato mixture came out of the oven.
Bake for 20 minutes at 375*F.
Remove from oven, mix ingredients up a bit so the melted cream cheese coats the potatoes and corn. Add shredded chicken and cheese.
Bake for another 20 minutes at 350*F.
This was a great casserole, considering the circumstances… though my friends have ZERO faith in my ability to cook LOL so try it and let me know what you think!