This post may contain affiliate links which means I receive a small commission at no cost to you when you make a purchase. As an Amazon Associate, I earn from qualifying purchases.
I've been working on creepy dolls to display year round, but most people think of them as easy DIY Halloween decorations, so I'm here to share some inspiration with you! I'm abso-freakin-lutely obsessed with Halloween (I mean, who isn't? Can you really trust someone who isn't obsessed with Halloween?), so you can expect to see more DIY Halloween crafts in the near future! 🙂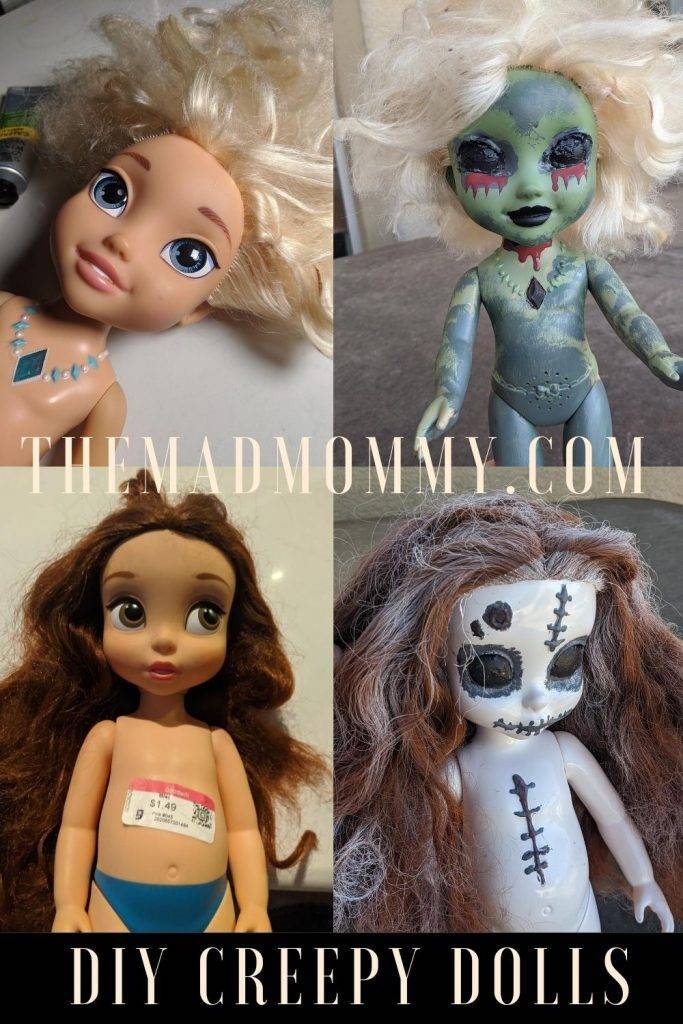 Be sure to whip up some Witches Brew while working on your dolls!
how to make Creepy Dolls
Your imagination is your only limit! Supplies to make your own Halloween horror dolls are SUPER cheap. Use what you have around the house!
Supplies needed will vary, but we used:
acrylic paint in green, gray, brown, black, white, and red
spray paint in white and black
spray sealant
paint brushes or sponges
old dolls
We got our dolls from Goodwill for $1.49 each. I did pay more for the porcelain dolls, but they were still only about $5 each. You can use old baby dolls, Barbies, etc – whatever you have! It's also really cool to paint angels and cherubs in a creepy way!
Themes
We did a different theme with each doll. Some ideas include:
zombies: greens, browns, torn clothing, cuts and bruises
living dead: grays and browns, torn clothing, stitches
witchy: greens and grays, add some modeling clay for a bigger nose
other creatures: use modeling clay to create elf ears or devil horns
You can mix and match doll parts, too! We put a big head on a small body and hot glued it so it would stay on. The best part about using hot glue is that you can layer it on, and paint it to make it look like stitches, dead skin, gunshot wounds, and more. You could even create maggots coming out of a wound, if you wanna get really gross! lol
I love the two-headed doll in this video:
Painting your dolls
I'm not an artist by ANY means. I was convinced these dolls would come out looking like a 7 year old painted them, and I'm sure some people think that is the case. However, keep in mind that these dolls are YOUR creations and are a result of YOUR creativity. What other people think really doesn't matter!
I've watched some tutorials where people use actual Halloween makeup to paint their dolls, then they spray a coat or two of sealant to make sure it stays. I'm not sure how well that works, because I haven't tried it. I have used spray paint – the cheap stuff – and it works well. Acrylic paints also work well, but I recommend the Level 2 or higher because the super cheap acrylics just weren't doing it for me!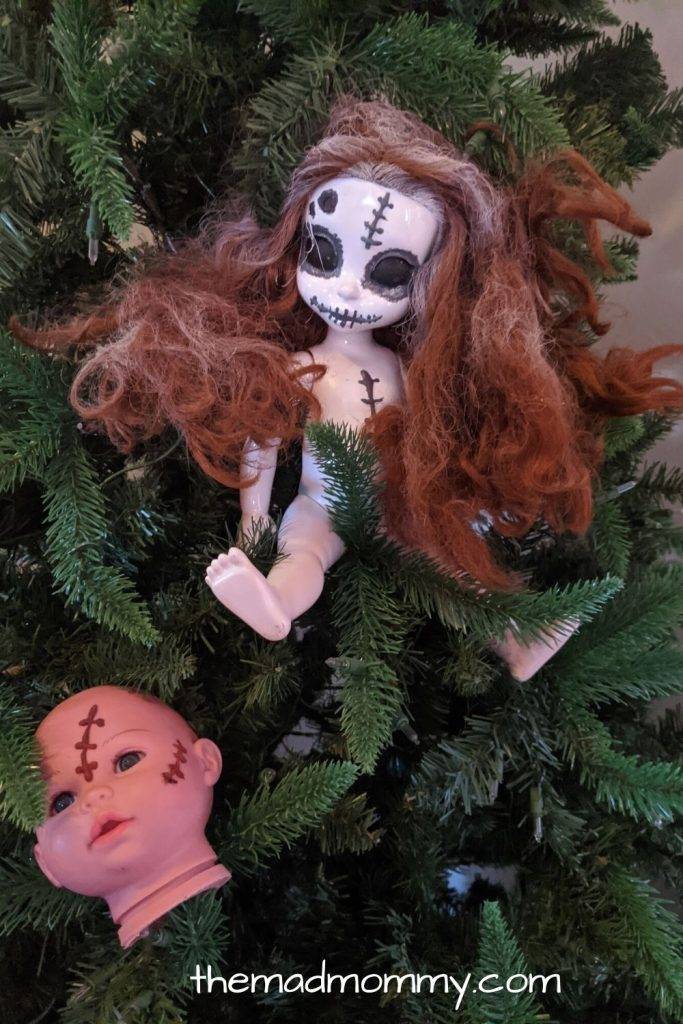 To create a doll like the one in the photo above, cover in white or very light gray spray paint. I used the glossy kind because I thought it was kinda cool, but I think matte would be a little "creepier". 🙂
Use hot glue to create some gnarly scars.
Add gray around the eyes. Black out the eyes.
Optional: spray paint hair.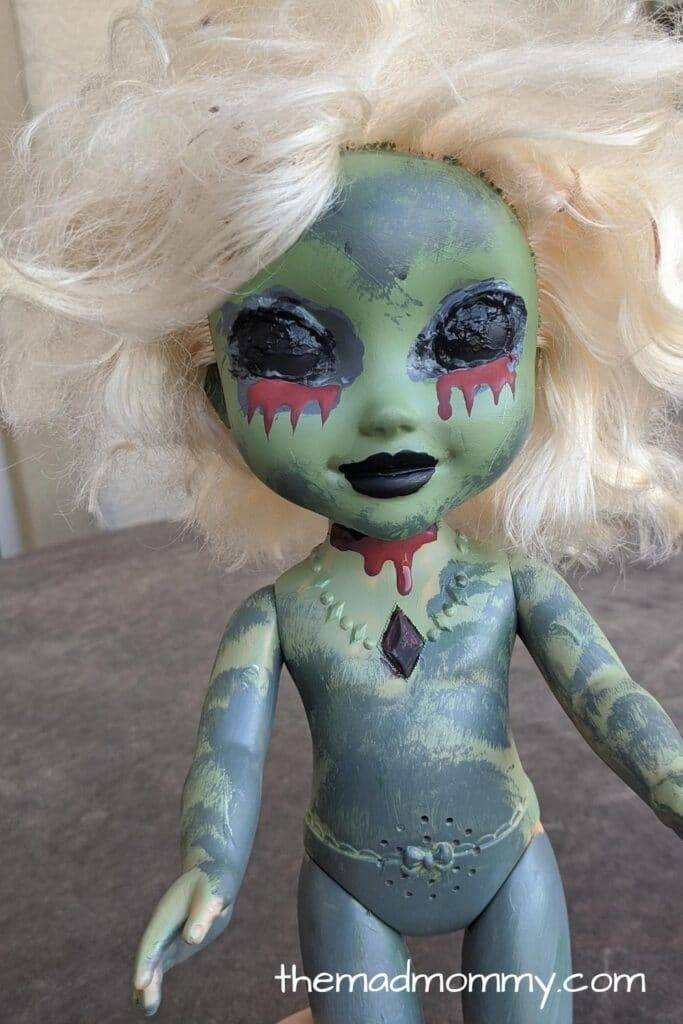 To create a doll like the one above, I used a green base paint. I only had tree green, so I mixed the green with a little black, white, and gray.
After the green layer is dry, add a layer of a darker green/gray combo.
Blacken the eyes and add optional scars. Chop the hair up.
Add some dripping blood: I loaded my paint brush up with the cheap red acrylic paint, because it's thinner and will drip better than the expensive stuff will.
Add lipstick – black or red will work just fine, but use your imagination!
Be careful, the drips take a while to dry! Don't touch them! 🙂
Adding scars to your doll
Hot glue is your best friend when making horror dolls!! Easily add scars, infected gunshot holes, and even maggot-infested wounds with hot glue. The sky is the limit!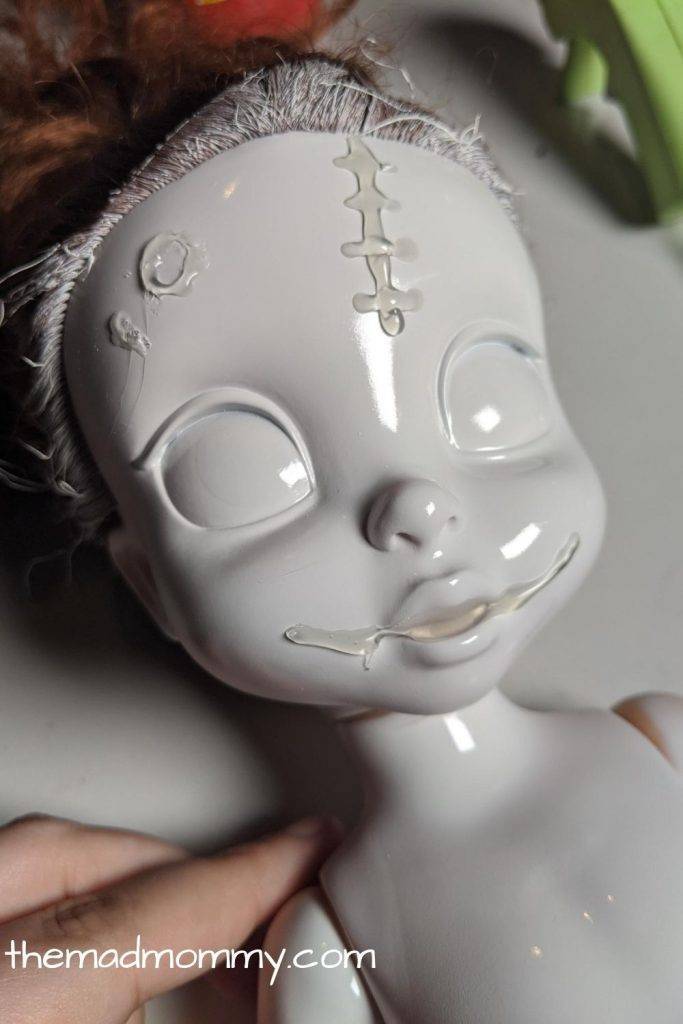 After your doll is painted, get creative with the scars and wounds! I like the old school stitches on the mouth, like from Hocus Pocus.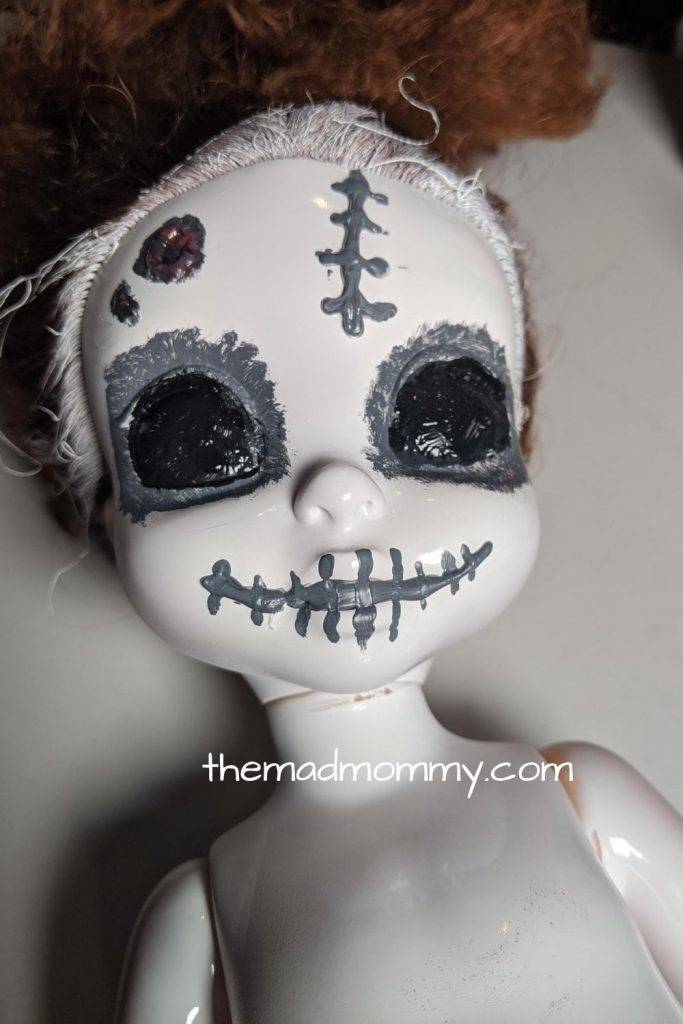 You can also add scars with a wood burning tool or hot knife (be careful!).
Use Halloween costumes and scary movies for inspiration. And don't forget, scars can be anywhere on the body that is going to show! Don't just stick to the face. A scar across the neck, chest, or leg is great for the spooky effect.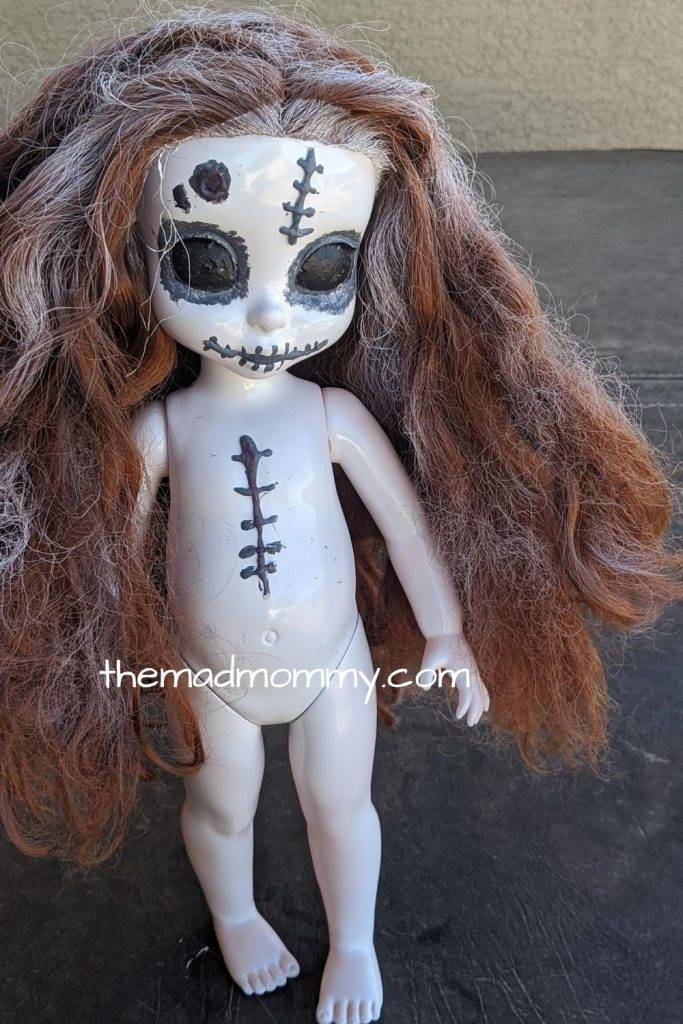 Working with doll hair
Making doll hair "spooky" is so easy! Just add some spray paint or acrylic paint to part or all of your doll's hair.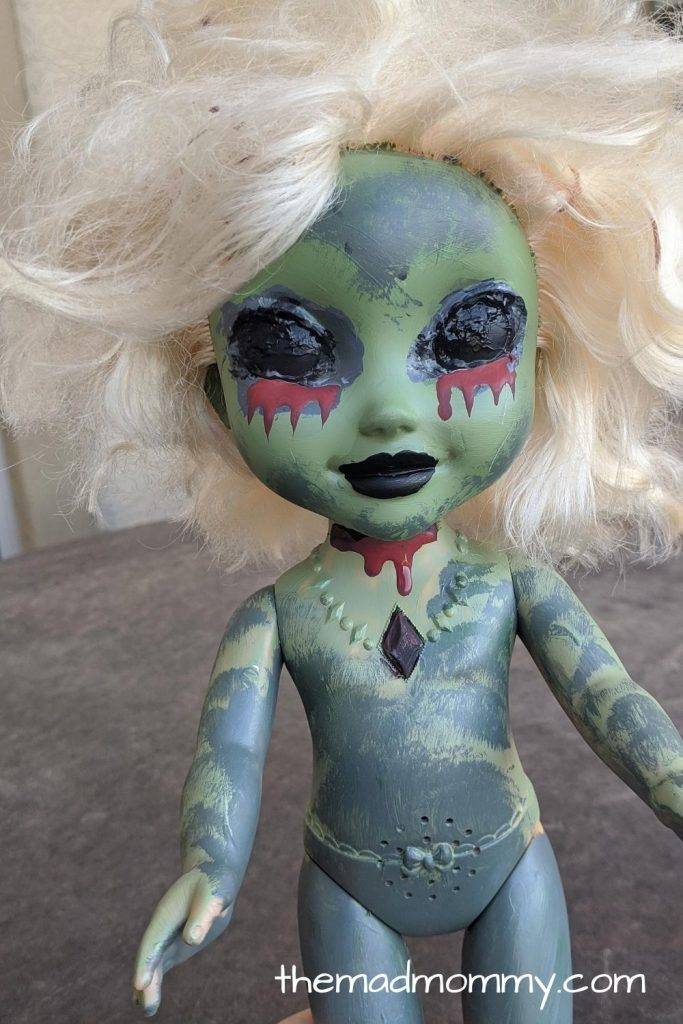 This Elsa doll wasn't quite spooky enough, so I chopped her hair up… it's exactly what she needed!
Covering your doll's hair
If you don't want the hair painted, cover your doll's head with a plastic bag to keep it from getting sprayed.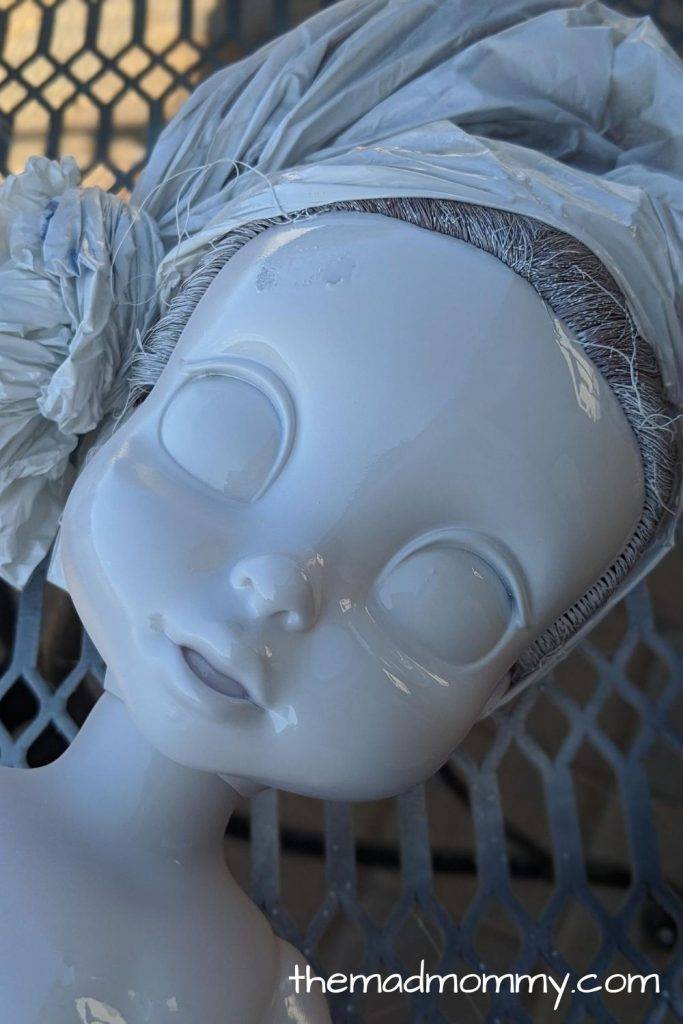 I ended up painting her hair after all, but if you want to keep from getting paint on it at all, you'll want to tie the bag on pretty tightly.
More spooky Halloween doll inspiration
I was shocked to see so many spooky dolls on YouTube! So awesome!
Want to make an exorcist doll with a spinning head? Sounds good to me!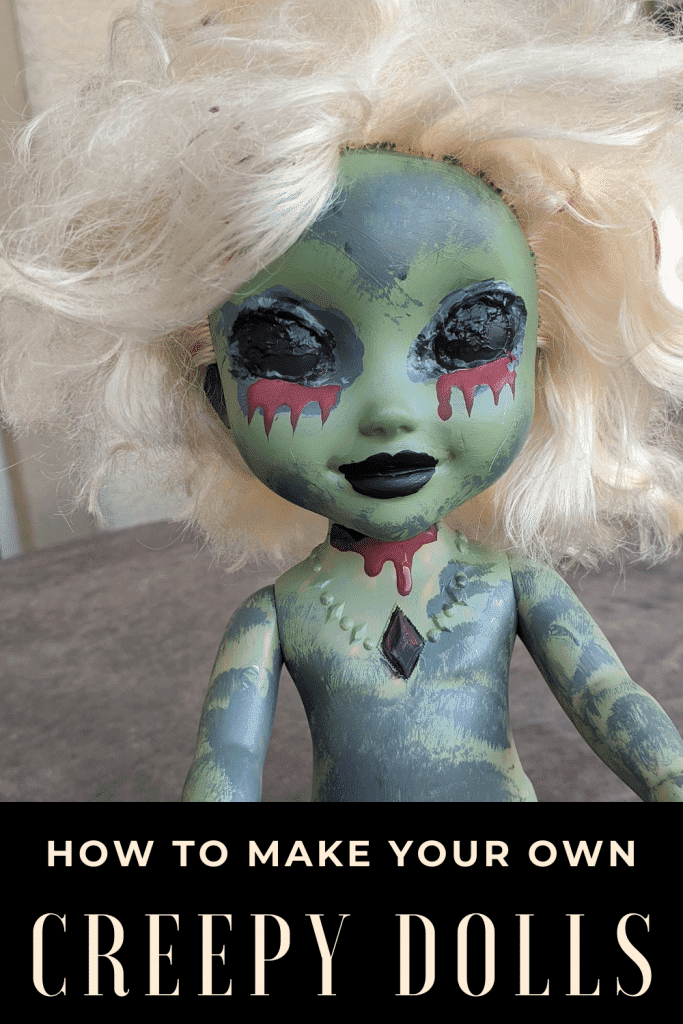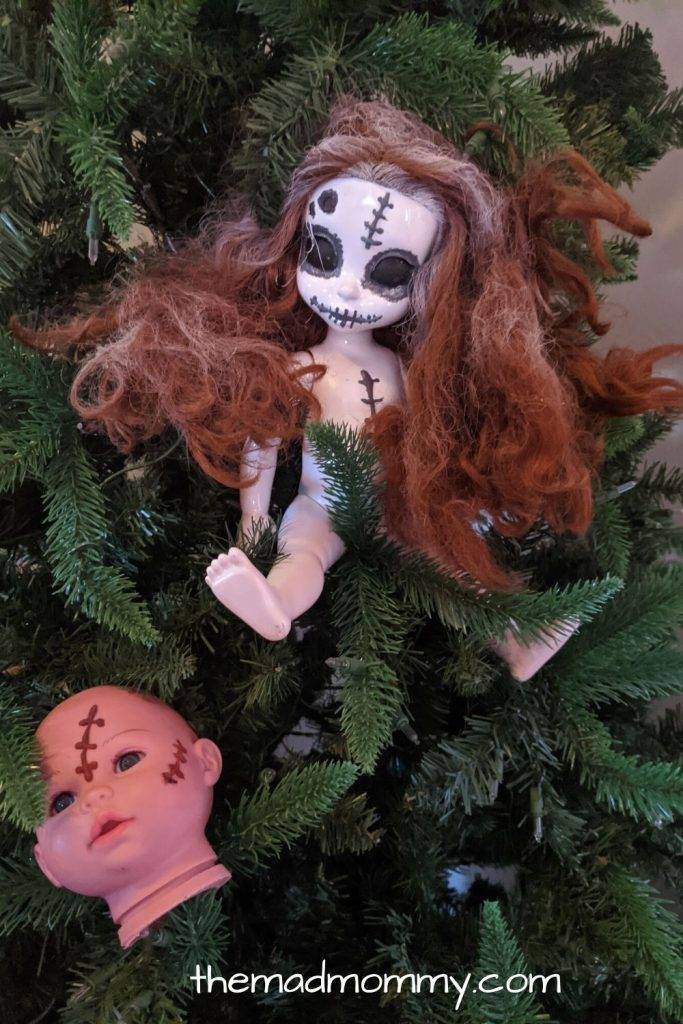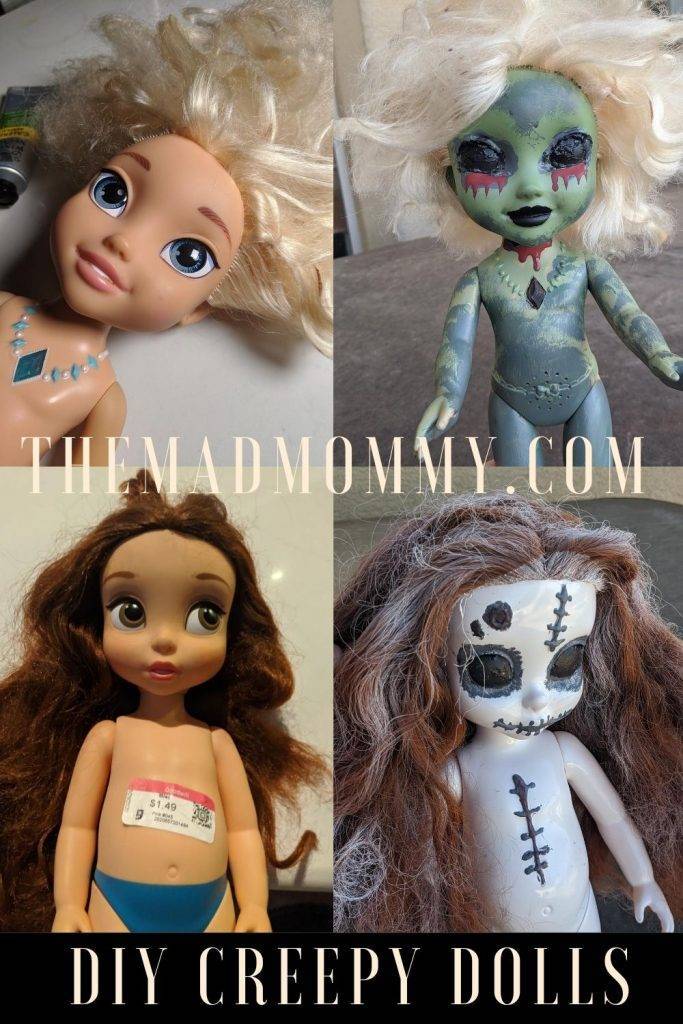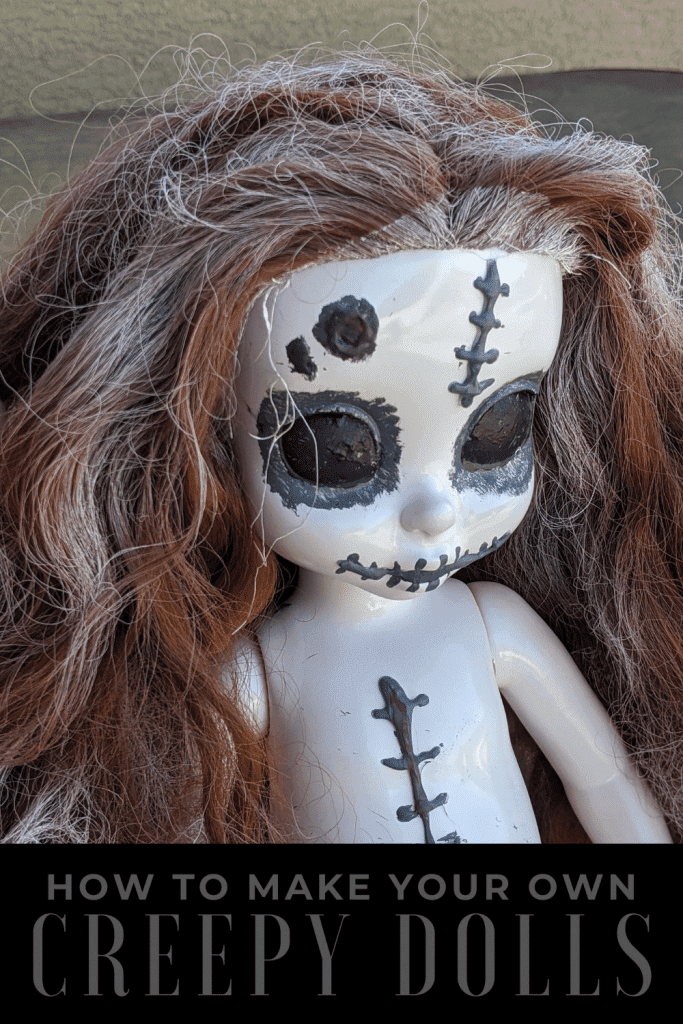 Amazon and the Amazon logo are trademarks of Amazon.com, Inc, or its affiliates.