This post may contain affiliate links which means I receive a small commission at no cost to you when you make a purchase. As an Amazon Associate, I earn from qualifying purchases.
Are you ready for Earth Day 2020? It's on Wednesday, April 22nd and is approaching quickly! In our house, we believe EVERY day should be Earth Day, so even if you're reading this after April 22nd, you can have loads of fun with these easy projects.
Earth Day Projects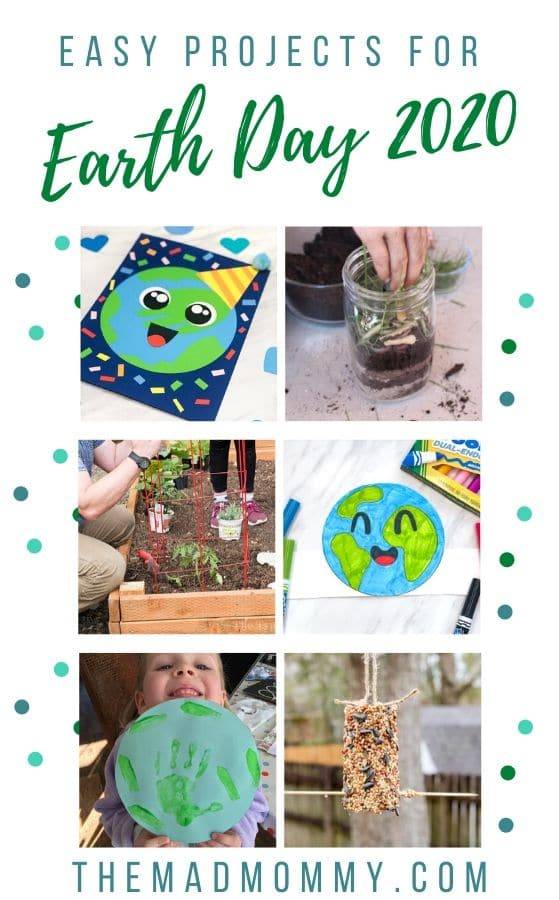 DIY Wormery: Get your hands a little – or a lot! – dirty with this one. Our DIY wormery was one of the most memorable projects for our homeschool thus far.
K-Cup Garden: If you use K-Cups, it's time to start recycling them! 🙂 Your first task: create a K-Cup garden.
Popsicle Stick Tractor: Tons of popsicles sitting around? Us, too! Make this adorable tractor (and an entire farm if you're feeling ambitious!).
Egg Carton Masks: We go through at least 5 dozen eggs a month, this is a great use for the cartons!
Paper Plate Space Ships: Blast off into outer space with these cool, upcycled aliens!
Recycled Crayons: Use this tutorial to create recycled crayons in chapstick tubes!
Earth Day Handprint Craft: Who doesn't love handprint crafts? I swear I have a whole box of them from when the kids were little. They're my favorite keepsake! Here's another version: Handprint Earth Day Craft.
How to Make a Vegetable Garden: What a great way to get your hands dirty and get started with gardening! Vegetable gardens can provide so much learning time – and nutrition, too! Our tomatoes are my favorite. What better way to repay the Earth for sustaining our lives than by planting? 🙂
I love this Earth Day poem!
Earth Day Printable Headband: This is adorable, and if you don't have a printer you can totally trace the Earth clip art from the computer and make your own headband out of recycled paper!
Easy Simple Bird Feeder: Nothing makes me happier than seeing and hearing birds in our back yard. Make a bird feeder to encourage little birdie visitors!
Bee Watering Station: Bees are so important for our entire world. Create this cool watering station to keep them happy and hydrated.
Upcycled Junk Journal: We love journaling around here (check out our journaling prompts!), so of course this upcycled junk journal is on the top of our "to do" list for Earth Day.
Recycled Milk Jug Planter: Plant your favorite flowers by recycling a milk jug! There are quite a few crafts and projects you can do by recycling your milk jugs. The milk we drink – oat milk – comes in cardboard boxes so we are going to try and use those in fun ways, too.
Upcycled Bags: Give the Earth a big "thank you!" by creating some upcycled bags to use instead of plastic grocery store bags. Try a No Sew T-Shirt Bag, Upcycled Market Bag, 15-Minute No Sew Tote Bag, or follow the video below.
Upcycled Cardboard Sunflower: This blogger used an old Amazon box to create a really cool, upcycled sunflower. The possibilities are endless with this one: you could make dinosaurs, doll houses, and more!
Easy Cardboard Dollhouse: One of my favorite things to make is dollhouses. I love making dolls, doll clothes, and more out of cardboard and paper. My obsession started when I was a kid, and it never left! 🙂
Egg Carton Roses: We eat a LOT of eggs around here, so egg carton crafts are right up our alley. These roses do not look like the typical egg carton flowers, though. They're fancy!
Plastic Bottle Turtle: Recycle that icky old plastic by making it CUTE. Make a turtle or use your imagination and create other animals and creatures with your plastic bottles.
How do you plan to celebrate Earth Day this year? Let me know in the comments! Don't forget to PIN IT! 🙂