Lots of work to get done but no idea where to start? Book a free no-pressure call with me here.
Hire me to kick your ass!
Metaphorically speaking, of course.
The first rule I have is that you can't take yourself too seriously!! We are all capable of AMAZING things, but we have to shut that voice in our head up before we are able to confidently and successfully take the steps forward required for success.
Think of me as your accountability partner, in a Jillian Michaels way moreso than a Mary Poppins way.
Need to take your online business to the next level? I've got you!
I've built dozens of businesses from the ground up. I'm known as the traffic genie in the blog world, so if you need more blog traffic, we're going to work really well together! I sold my last blog for six figures.
I have also successfully built Etsy stores, including one that makes $1,000+ each month with part time work.
Even if you can only work part-time on your business, you can reach your goals.
I will work with you to set realistic goals (for many, that includes hitting six figures in 2 years), and will design a schedule that works with your life.
Only have a few hours a day to dedicate to your business? I can make sure you get the MOST out of those hours, and help you find blind spots you may be missing where we can squeeze a few extra minutes in here and there.
YES, you can do this while working another job.
YES, you can do this while raising kids.
YES, you can do this even if everything else you've tried has failed.
UPDATED APRIL 2022 – My coaching program is FULL! Please sign up here if you'd like to be put on the waitlist for NOVEMBER 2022. Thank you!
What I'll do for you: First, we will work together to do a complete audit of your blog or shop. Then, I give you a list of tasks to complete to get your business set up in the best way possible. Even if you have an established business, I can usually find ways to expand what you're already doing.
Over the course of twelve months, we will work together to design a schedule for you to follow, on your own terms. This means you can do the work at midnight when the kids are sleeping and you're burning the midnight oil, or you can do it at 5AM or 2PM. The only thing that matters to me is that you get it done.
What's expected of you: Meet with me via zoom or Facebook chat so I can learn about your business and how much time you have to dedicate to your business. Work on your business daily, no excuses. Weekly check-ins are strongly suggested, but not required.
Heads up! I am VERY selective when accepting coaching clients so please do not be offended if we are not a good fit. I don't want to waste your time or money, so I only accept clients when I am fairly certain I can help them take their business to the next level.
Testimonials from coaching clients
Since meeting Sadie, my business has doubled its profits every year! – René Brooks, Black Girl Lost Keys
---
From the moment I met Sadie she started sharing information with me on ways to advance our businesses. She is FULL of amazing ideas in so many areas. She's not in it for the money, she enjoys helping people. You will not regret it. Dionne, siSTAR Circle
---
Kaylene's 2020 testimonial: Since working with Sadie, I've more than doubled my revenue and my monthly income. As someone who has done everything from free resources to $2000 courses to $5000 coaching programs, I have been so impressed with Sadie's programs. She breaks things down step-by-step, but more than that, Sadie is a coach that will kick your ass when you need it most. If you just show up and do what she says, you will get more done and make more money.
2021 testimonial: I joined driven dozen last year and went from $2,500/month average income in q1 to $10,200/month average income in q4. Sadie is the real deal, and without driven dozen there's no way I would have increased my income so exponentially. – Kaylene George, Autistic Mama
---
Sadie is definitely one of the most thorough coaches. She won't hold your hand, but she won't leave anything out either…and she's always ready to give advice and examples when needed. She teaches what she knows and what she's done before. She's been there. She also won't let you make excuses when building a successful business. She's the kick in the pants I often need to get things done! – Kecia Hambrick
---
I more than doubled my income, some months tripled, and working in more streams. Her group coaching is totally worth it. – Mandie Stevens, published author, blogger
---
Absolutely love her coaching and teaching style. If you are being true to yourself, you will greatly benefit from her techniques and abilities. If you're ready to make some real moves, level up, boost your confidence and your financial portfolio, then go for it. – Marilyn Arriaga, Low Income Resources
---
I was scared to join a coaching group with the goal of making 100K in 12 full months. With already having some streams of income coming in I wanted to learn more about the online income instead of physical product income. Sadie has step by step directions and live coaching to help make this a reality. This 1 idea/suggestion Sadie gave has given me extra money a month that I did not have starting her coaching. She has many more ideas and willing to help you but not do it for you. Like anything in life if you don't put the work into it you will not receive the results you want. She really wants to see you succeed. – Liberty Barnes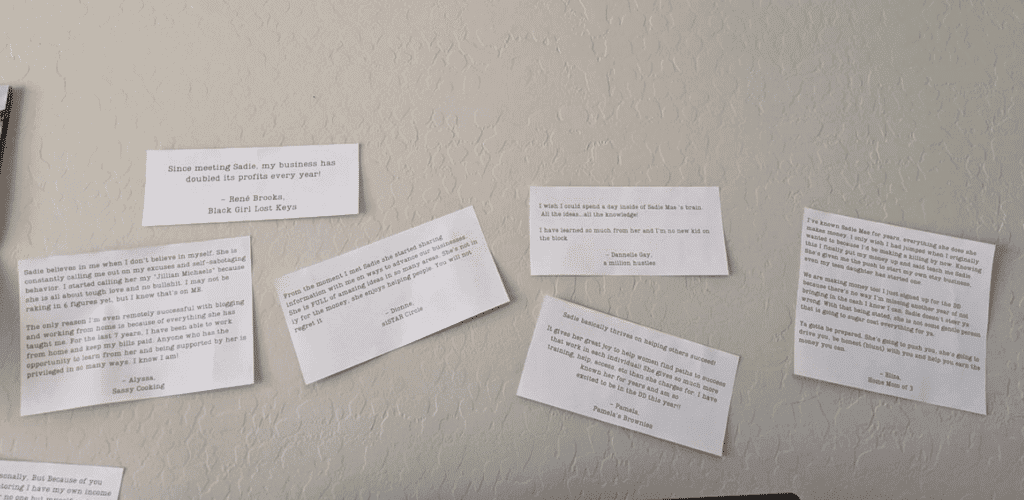 My coaching clients truly inspire me every single day. This is my workspace, right above my laptop. I look at these every day!
More testimonials
I literally started with nothing… I can't even like… testify enough. I'm only 19 and looking at making six figures within the next year and a half. Sadie has been the biggest influence on my life since I was 15. I trust her with literally everything. She makes money and grows so much because she's passionate about what she does. You won't ever find anything so helpful *and* fairly priced than you will doing anything Sadie creates. I wish I could just show you how she's inspired me to change the train wreck of my life and pull myself up and keep going. Definitely someone I'm grateful to have and will always keep on my side
I couldn't even begin to imagine a better mentor. – Stephani, Crystal Sand Tarot
---
Sadie basically thrives on helping others succeed! It gives her great joy to help women find paths to success that work in each individual. She gives me so much more training, help, access, etc than she charges for. I have known her for years and am so excited to be accepted into DD (group coaching) this year. Pamela, Pamela's Brownies
---
Sadie is an AWESOME coach and teacher! She teaches, step-by-step, what to do to create fabulous products. Along the way, she will provide tips and tricks to make creating your projects simple and fun! Sadie is full of knowledge to share, but will also empower you to learn how to figure things out on your own. She will be your biggest cheerleader, but give you a nudge when you need it as well. I cannot recommend her class enough! – Sara Srebnik
---
Sadie knows her stuff! She will light the fire and keep it going but not hold your hand. Since working with her I've created 4 different income streams for my family and making far more money than I was 7 months ago. She is well worth the investment! I like she uses her own work to show us how to do it. Sadie is a work from home GENIUS and the ideas keep coming. – Pam Allen
---
Sadie believes in me when I don't believe in myself. She is constantly calling me out on my excuses and self-sabotaging behavior. I started calling her my "Jillian Michaels" because she is all about tough love and no bullshit. I may not be raking in 6 figures yet, but I know that's on ME!
The only reason I'm even remotely successful with blogging and working from home is because of everything she has taught me. For the last 7 years, I have been able to work from home and keep my bills paid. Anyone who has the opportunity to learn from her and being supported by her is privileged in so many ways. I know I am! Alyssa, Venice Foodies, Sassy Cooking