This post may contain affiliate links which means I receive a small commission at no cost to you when you make a purchase. As an Amazon Associate, I earn from qualifying purchases.
We started our human body unit study by reading these science facts about the body. From there, we fell down a rabbit hole of organs and systems in the body. Because the human body is so complex, and there's so much to learn, we decided to focus on the lungs, heart, kidneys, liver, brain, stomach, and intestines.
We're quite obsessed with "facts about _____" here at The Mad Mommy. Be sure to check out our other homeschooling posts!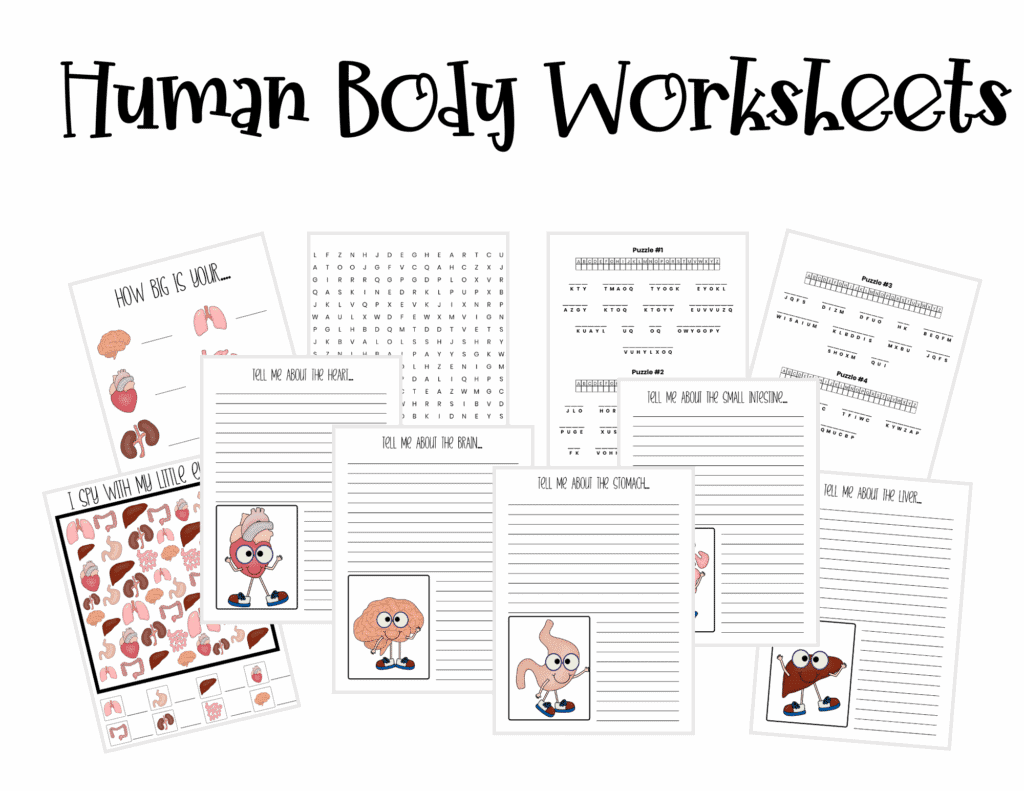 Human body unit study printables
The beauty of unit studies is that you can use them as a jumping off point, have fun with the worksheets, add in your own hands-on activities, and fall down your own rabbit holes. 🙂 I firmly believe children should lead the discussion when it comes to what they want to learn and how they want to learn it, so we try to incorporate our daughter's learning style as well as her interests any time we create worksheets.
Your child may want to do lots of word puzzles, or they may not want to write at all. Either way, make learning fun by letting them take the lead – and use these worksheets to help you round out your human body unit study.
Child led learning
Sometimes, letting your child lead can be a bit confusing. I want to explain our thought process and how things worked with Sapphire when we talked about the human body. She started off wanting to learn the basics, but quickly started talking more and more about blood. Yes, my weak stomach just loved it… but we forged on! She ended up stumbling upon some special effects makeup video and from that point, she started doing her own special effects makeup!
She's great at special effects makeup now! And, she learned a lot along the way. We still did worksheets (download them below), we talked about the organs and systems of the body, and we also talked a little about health and that led us towards sexual health, which is another important topic. Again, letting kids lead is going to take you (and them) to places you never planned on – but learning is the key. We learn a lot alongside Saff, on a daily basis!
Because of her health, Saff can't be online much – if at all – each day. Worksheets are best for her because of this, and also because she loves them! If your child loves worksheets, there are tons of websites to use to print free worksheets.
Where to find worksheets about the human body
Teachers Pay Teachers is a website with free resources.
Etsy is another option, but those aren't free.
The best resource you have: GOOGLE! Head over to Google and type in "free printable worksheets" and then the topic you're looking for. Get as specific as you'd like! Start broad with "science" or "third grade science", and then try "human body worksheets" or "human body printables".
This may take a little time – in fact, I know it will – but it's worth it! You will then have the best resources at your fingertips to round out your homeschool teaching. Try not to get too hung up on grades and how much work your child does. Instead, keep it fun and light-hearted! Do hands-on activities whenever possible, and let them lead the way when you can. Using these methods has helped turn our homeschool around entirely. Sapphire now LOVES learning! She used to hate it!
Facts about the human body
We used these sites to learn more about the human body. They vary in grade level and how in-depth they are, but we found them all helpful!
And the ultimate fact website we found… Soft Schools.
Hands-on anatomy activities for kids
While we have lots of limitations on teaching due to Saff's health, there is one bright side: lots of hands-on projects! She can't sit in front of a screen, but even if she's not feeling the best, she usually gets up and puts something together or asks us to print her some craft tutorials. We found some really cool sites that feature human body focused activities that kids can do. Here are some of our favorites:
Our favorite project was what's in a drop of blood?
I even found an entire Pinterest board dedicated to anatomy activities!! The internet amazes me every day.
Download human body worksheets
Now, the fun part… worksheets! I've created this packet (with the help of Sapphire!) to share with other homeschoolers. If you click the "add to cart" button, you'll be taken to a checkout where you can download the worksheets. It's only $1!!