Wanna dip your toes in?
I know life can be overwhelming AF, and as someone who lives with chronic illness, ADHD, and is autistic, whew, I get it.
That's why I created this super simple page that outlines exactly what PIPS Lite is all about!
PIPs LITE is a membership for people who want to start a blog, learn how to write amazing blog posts, and dip their toes into the world of working online.
LITE is the very first step of your blogging journey.
It's only $7/month and is everything you need for a foundation. It won't get you to six figures step by step like VIP can, but it's a start. And that is exactly what we all have to do to be successful: just start.
This is me – not a fancy copywriter – telling you why I want YOU to join me inside the PIPs ecosystem… at whatever level feels best for your 2023 plans.
Already a PIPs member? Upgrade instructions are right here.
what is PIPs LITE?
Passive Income Pathways (PIPs) is a monthly coaching membership designed to take you from starting a blog all the way to making six figures with it. There are 3 levels of coaching that I offer: LITE, PLUS, and VIP.
The focus of this page is LITE, but if you would like more accountability, you need to be in VIP. If you want self-paced courses and coaching with zero pressure, you're looking for PLUS. Both options have amazing savings this week plus awesome bonuses!
Can't decide which level to choose? Let's chat in my free Facebook group and based on the info you give me (your goals, availability, etc), I'll let you know which will fit you best!
who is PIPS LITE for?
PIPs LITE is for you if you are:
a self-starter who loves learning new things to grow your biz
ready to finally get your blog published
tired of work from home scams (they're literally EVERYWHERE… ugh)
never going to be an MLM hun (or never again – hey, I got sucked in, too)
over bullshit bosses who don't appreciate you
and ready to start your passive income journey so you can enjoy life, travel, and even retire early (or at least not HAVE to work!)
PIPs LITE is a suite of courses, trainings, workbooks, and other resources that will help you start and grow your blogging business.
I know you are sick of buying courses that don't work, so I've included everything you need to be successful.
Our MAIN goal for PIPs is to help you make money so you can help other people – in whatever way you feel is best.
PIPs LITE is NOT another Lambo bro marketing scheme that talks about high ticket sales and snagging babes in bikinis.
Our purpose is to share our gifts with the world and help our audiences in a financially accessible way.
While we do that, we make a shit ton of money.
Then, that money can be used to help even MORE people.
That's PIPs in a nutshell. If you're still here, you are one of US!
Psst… PIPs is an inclusive program. We serve people from all walks of life with all abilities, and create a safe space for everyone. All of our training materials are created by me – someone with ADHD – so I try to keep them short with lots of visual aids. At PIPs, we believe love is love and Black lives matter. If these views don't align with yours, there are many other options online and I hope you find one that works for you, because PIPs isn't it.
What do i get in PIPs LITE?
This is a brief overview of what you get when you become a PIPs LITE annual member, with more to come every single month. We are all about supporting YOU where you're at in your biz – and helping you get where you want to be.
Monthly group coaching calls
Monthly templates to use in your biz
Quarterly planning calls
Pop-up co-working calls
and more!
You'll also get access to These courses and challenges: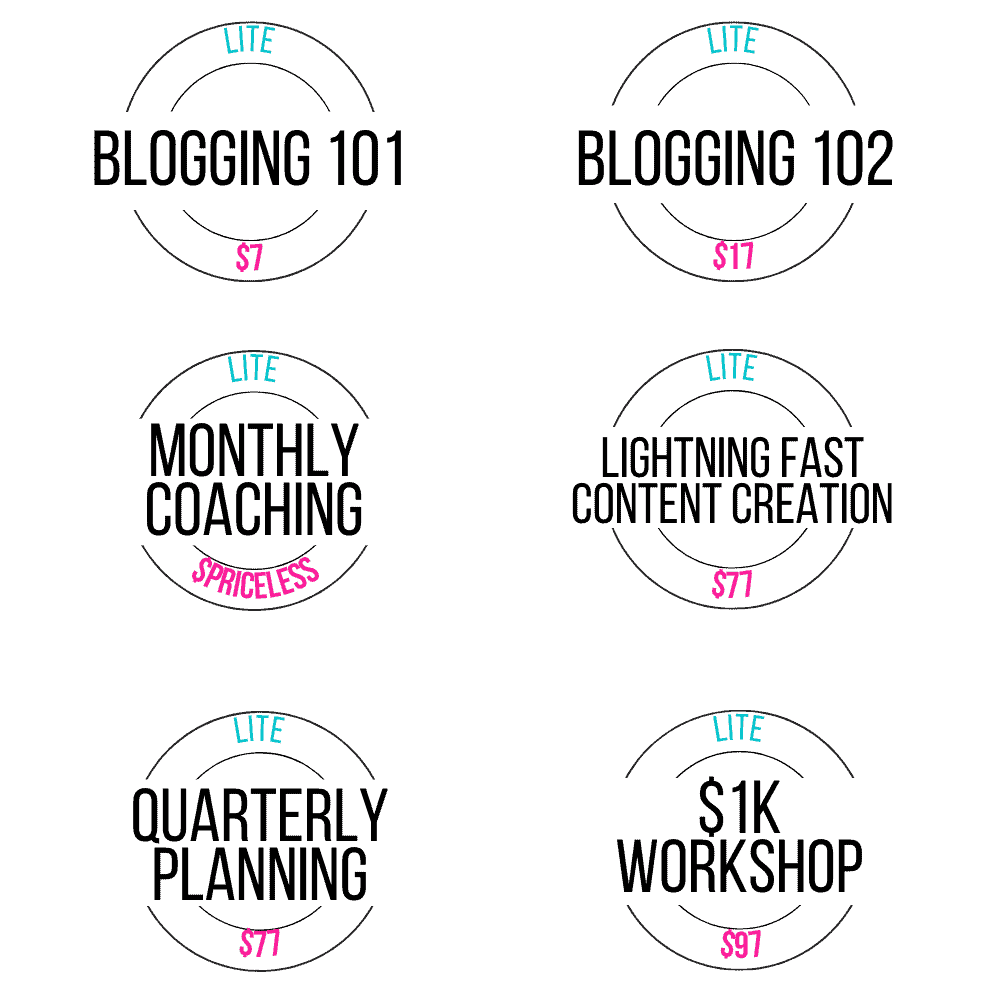 … and all LITE level resources through December 2023.
Lightning Fast Content Creation is my favorite course I've ever made! It's the fastest way I know how to make money (writing blog posts), so I'm including it in your PIPs LITE membership. If you follow the course and put it into action, you can make your money back the same weekend. Many students have done just that!
I'm a firm believer in if it's not a HELL YES! it's a no – so don't join just because you're afraid of missing out. I mean it!
Only join me if you feel it's aligned with your 2023 (and beyond!) path.
I would LOVE to have you, but this is not an impulse buy… it's a big investment, of time – and money. That is why I designed the $1K workshop specifically with LITE members in mind. If you're wondering how the heck to afford stuff these days, you'll get dozens of ideas on that call (and yes, you'll get the replay if you can't attend live). The call will take place in December, so no waiting around to make $$.
I need more accountability, Sadie, what else ya got?
don't just take my word for it!
P.S. You know you don't need another expensive blogging course. You need to be guided along the right path with step-by-step instructions for the things that really matter (spoiler alert: not social media). So let's do the thing – together!
P.P.S. Not sure if it's right for you? Don't worry—I've got a 7-day money-back guarantee. If you feel PIPs LITE is not for you, request a refund within 7 days. No questions asked, no hard feelings.