This post may contain affiliate links which means I receive a small commission at no cost to you when you make a purchase. As an Amazon Associate, I earn from qualifying purchases.
Have you ever wondered if you could make your own snow? Making your own snow that feels like the real thing takes just 2 ingredients and about 10 minutes. Your children are going to love playing with this DIY make your own snow that feels very real. Want to know what's even better? The two ingredients that are needed for this fake snow are ones that you likely already have on hand.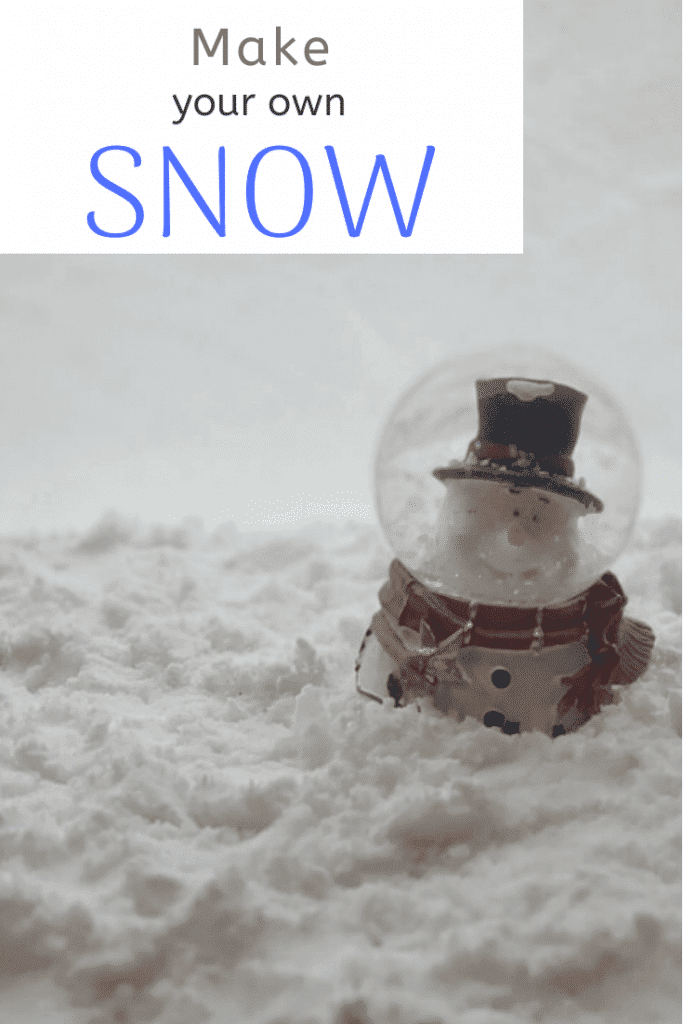 Why make your own snow?
Many of us live in environments where we rarely, if ever, get snow. There are millions of children out there that have never seen or played with snow before, but with this fake snow they can experience it at home! They can learn what it feels like to dig their fingers into snow or ball up and create a snowball. Or, maybe even make a tiny snowman!
If you want your children to experience what snow feels like, you can work with them to make your own snow that feels just like the real thing! It even feels cool to the touch!
Until I decided to create this fake snow, I just assumed it was going to be difficult to do. I can say that I am happy to report that it is ridiculously easy to make your own snow! This isn't one of those posts that is going to walk you through thirty different steps and a bunch of difficult processes. That's not my kind of project. I promise you this one is easy to do.
Here are a couple of added bonuses to this easy make your own snow craft: It smells amazing and it is ridiculously cheap!
What does it take to make your own snow?
Today at The Mad Mommy, I am going to walk you through how easy it is to make your own snow in about 10 minutes with just shaving cream and baking soda. Yes, I did just say shaving cream and baking soda!!
So put on your comfiest t shirt and shorts and get ready to play in the snow! It's time to make your own snow without even stepping outside. The kids are going to have so much fun!
How to Make Your Own Snow
The following ingredients are needed to make your own snow:
1 box of baking soda
1 can shaving cream (make sure it is shaving cream and not shaving gel)

You will also need a large bowl for mixing (bonus points if this bowl has a lid so you can save the snow to play in again).
Here are directions for you to follow to make your own snow:
Pour the entire box of baking soda into the large mixing bowl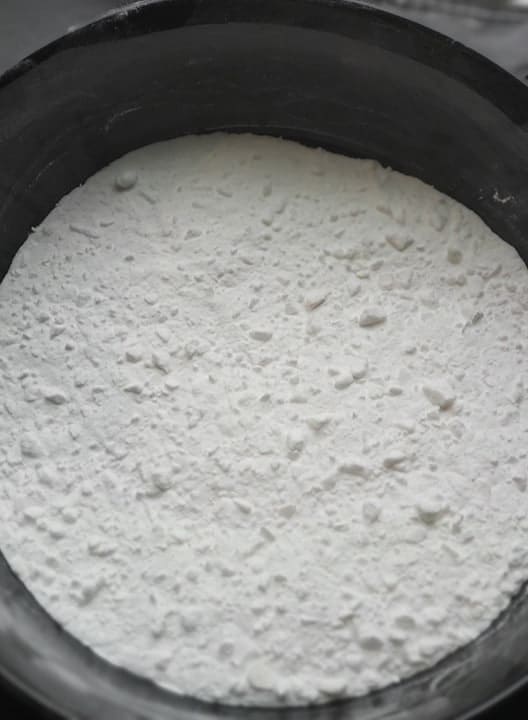 Add a small amount of shaving cream and use your hands to mix it into the baking soda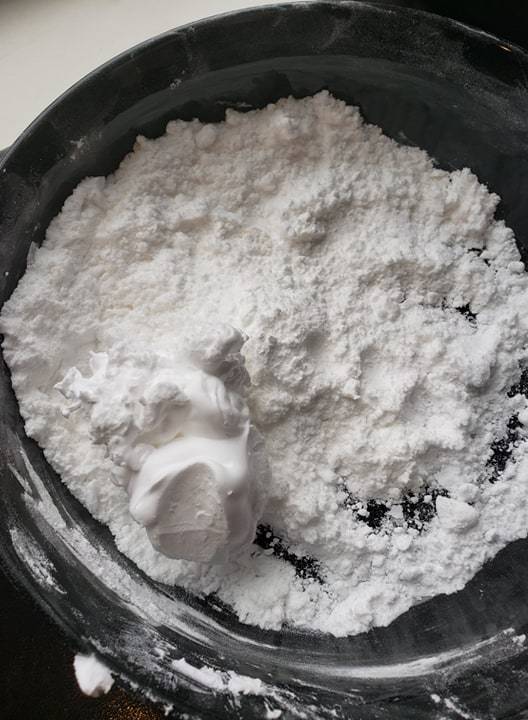 Mix in more shaving cream, just a little at a time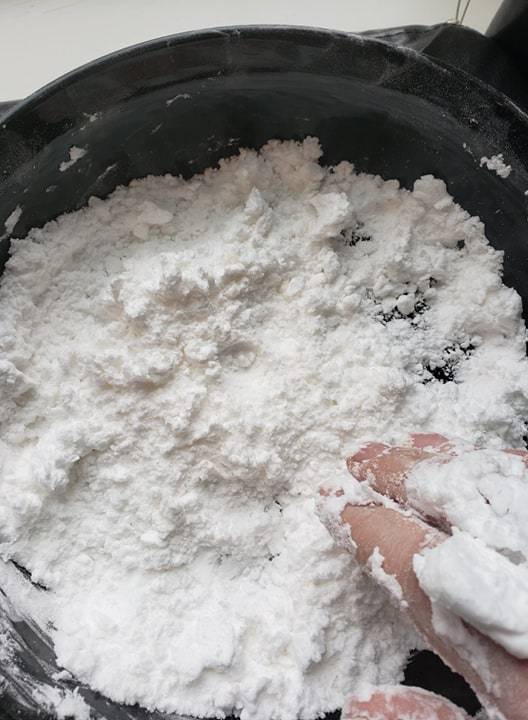 Continue adding small amounts at a time and mixing until you reach the consistency of snow
The "snow" should be light and powdery and shouldn't leave much for residue on your hands when you play with it.
This entire project took me about 10 minutes start to finish. I used a small box of baking powder and approximately ¼ can of shaving cream to create about half a quart of fake snow. I already happened to have some generic shaving cream on hand, so don't worry about any name brands, just make sure that it is the shaving cream and not gel.
The only thing I would change about our project is the scent of shaving cream that I used. My shaving cream was scented like the tropics, when I would have rather had a more wintery type smell to go along with the winter type theme. It just didn't seem right to smell like tropical flowers while making a snowball. You could probably also add essential oils, but I don't think it is that important for this little project.
To be perfectly honest, I have no clue why the fake snow feels cool to the touch, but that was a neat bonus! It didn't stay that way for too long after the kids were playing with it for a while, but it also didn't melt, so it's got that going for it!
I had a bunch left and decided to put some in a freezer bag and put it in the freezer to see what would happen and I've got to tell you…it was cool! That cheesy pun was completely unintentional, but it really is cool! I thought this felt like real snow before, but WOW! If you really want your kids to know what snow feels like, put the fake snow in the freezer for a couple of hours and then let them play with it. 🙂
Can kids help you make your own snow?
If you are looking for a craft to do with your kids this winter, this make your own snow craft is a great option! My 3 year old really enjoyed playing with the snow. He liked walking his little character toys through the snow and driving his toy trucks through it. It's not just little ones though, my 15 year old really loved setting up little decorative scenes through the snow and making it pretty.
If you end up doing this project and making your own snow, please come back and tell us all about it! I love to see if you guys enjoyed this little activity as much and my kids and I did. What other winter craft and art projects have you been thinking about doing? I need some more ideas to keep the kids busy during their winter break.
If you are looking for other fun winter projects and activities to do with the kids, check out some of the other stuff we have here for you to do:
Mad Mommy Winter and Christmas Projects and Activities:
Best Christmas Websites for Kids
How to Get a Letter From Santa
Planning an Autism Friendly Christmas
Free Christmas Homeschooling Printables
Reindeer Donut Pops
Grinch-Inspired Cinnamon Rolls
Fun Christmas Tree Facts