Mt. Lemmon, Arizona (Slingshot Ride)
This post may contain affiliate links which means I receive a small commission at no cost to you when you make a purchase. As an Amazon Associate, I earn from qualifying purchases.
We took the Slingshot and the motorcycle to Mt. Lemmon with some fellow Slingers and had a blast! The Fall weather was perfect, and definitely worth the 2 hour drive from our home. Slingshot rides are all part of living our best life!
Mt. Lemmon, Arizona (Slingshot Ride)
Our ride took place at the end of September, 2019. We had 8 Slingshots and 1 motorcycle, which is the biggest ride we've been in with the Slingshot so far!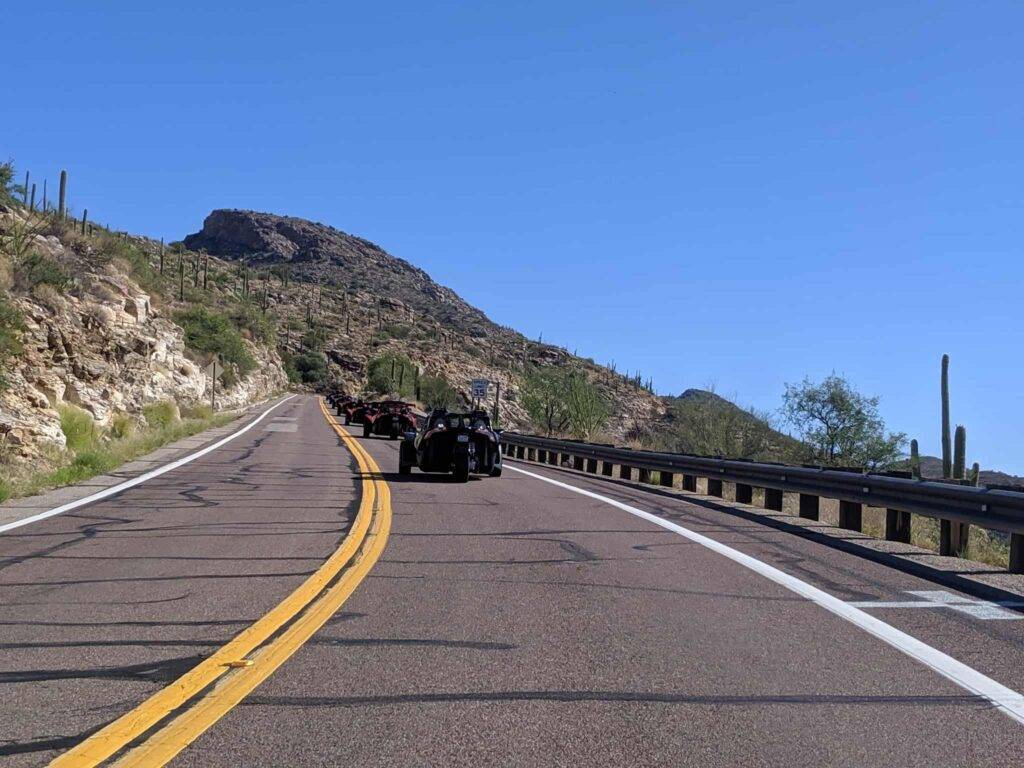 The Ride Up to Mt. Lemmon
I am not a fan of driving on mountain roads, so I was nervous about this trip. Kevin loves the winding, dangerous paths, so he was psyched about it. He had also been there before, so he knew what to expect. I had only seen pictures of the mountains.
The drive up wasn't bad at all, it was actually enjoyable. I was at the end of the line of Slingshots, so I didn't have to rush or feel hurried. Sapphire and I enjoyed the views. I drove while she took pictures.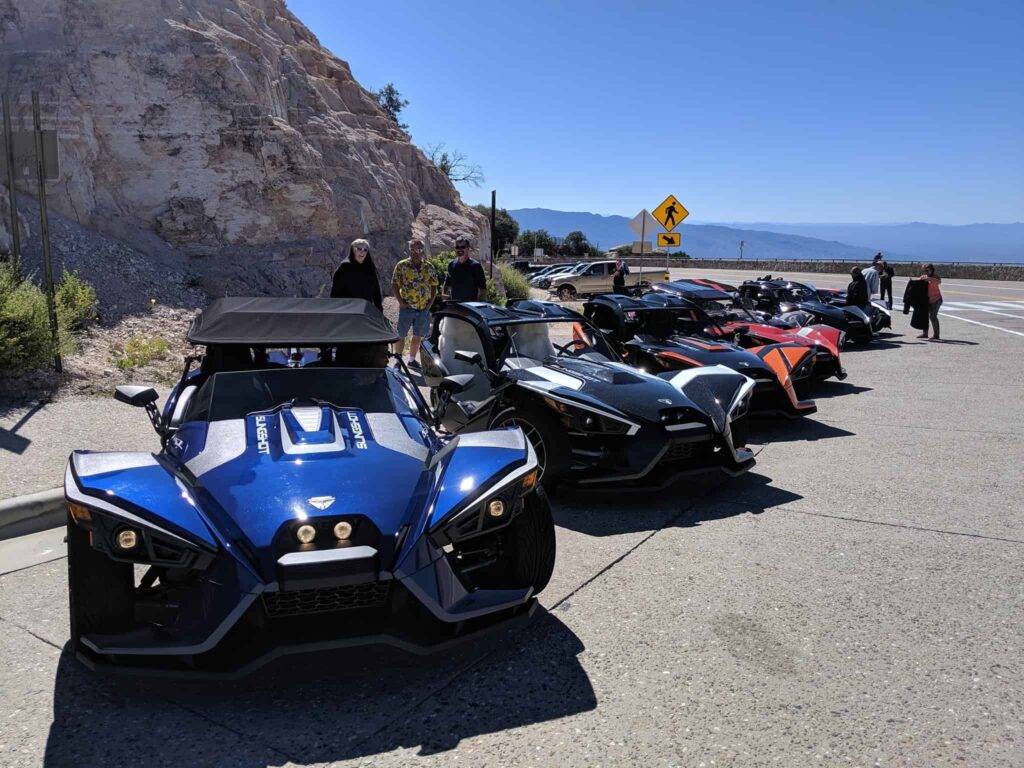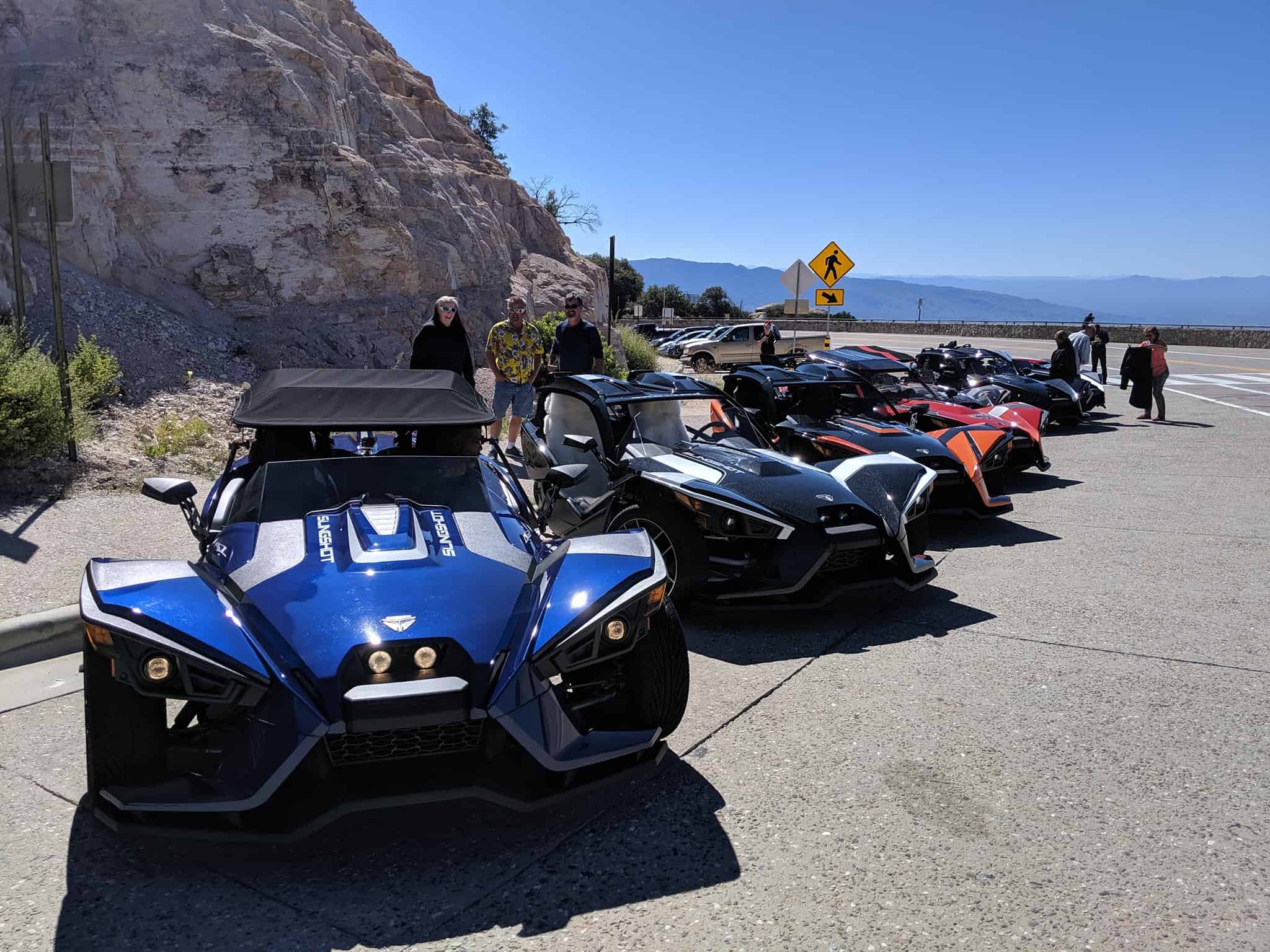 Where is Mt. Lemmon?
Mt. Lemmon is located in the Santa Catalina Natural Area, surrounded by Coronado National Forest, in Southern Arizona.
Mount Lemmon is a 155 mile drive from Phoenix, following I-10E and US-60E. Travel time is about 3 hours. Mt. Lemmon is about an hour drive from Tucson.
Is there a fee?
There is no entry fee for Mt. Lemmon. There are restaurants and shops up at the top, if money is burning a hole in your pocket. 😉
How tall is Mt. Lemmon?
Topping out at 9,167 feet, Mt. Lemmon is the highest point in the Santa Catalina Mountains.
Mount Lemmon Weather
Brrrr! It gets a little chilly at the top of the mountain (20+ degrees colder than Tucson), so be sure to dress in layers and check the weather before heading out. Yes, it snows on Mount Lemmon!
During our trip (September), it was 63*F at the top of Mt. Lemmon, and 97*F by the time we reached the bottom! 63 degrees was perfect. Light hoodie weather for some, t-shirt weather for others. 🙂
Call the Road Condition Hotline during the winter to check on road conditions by calling 520-547-7510.
Mt. Lemmon Rentals
You can rent electric bikes, cabins, and more on Mt. Lemmon. The town of Summerhaven is exactly what you'd expect in a movie about folks living on a mountain. It's quaint, and worth a stop. Definitely get some fudge from the Fudge Shop. It is delicious. But they don't have a public restroom; you need to go to the Community Center for that.
Mount Lemmon Cabin Rentals
You can rent a cabin in the beautiful mountains for about the same you'd pay for a hotel ($150ish at time of posting). Check out mtlemmoncabins.com for availability and rates.
Bring Fido has Mt. Lemmon pet-friendly cabins.
Mt. Lemmon Bike Rentals
You can also rent an electric bike to ride up/down/around the mountain. Rent bikes from:
Things to do: Mt. Lemmon
There's no shortage of activities on Mount Lemmon! From hiking and camping to skiing and bicycling, you'll never get bored. The views are breathtaking and ever-changing, depending on where you are on the mountain.
Camping
Mt. Lemmon camping is one of the most popular activities for tourists and locals alike. Unless you like freezing your tush off, I'd recommend camping during the summer. Mt. Lemmon does get snow in the winter.
Hiking
If you're used to elevation and love hiking, you'll want to hike Mount Lemmon. It was a little rough for us because we are used to the flatness of the East Valley in Arizona, but many places have more elevation so it wouldn't be as tough to adjust to for most people.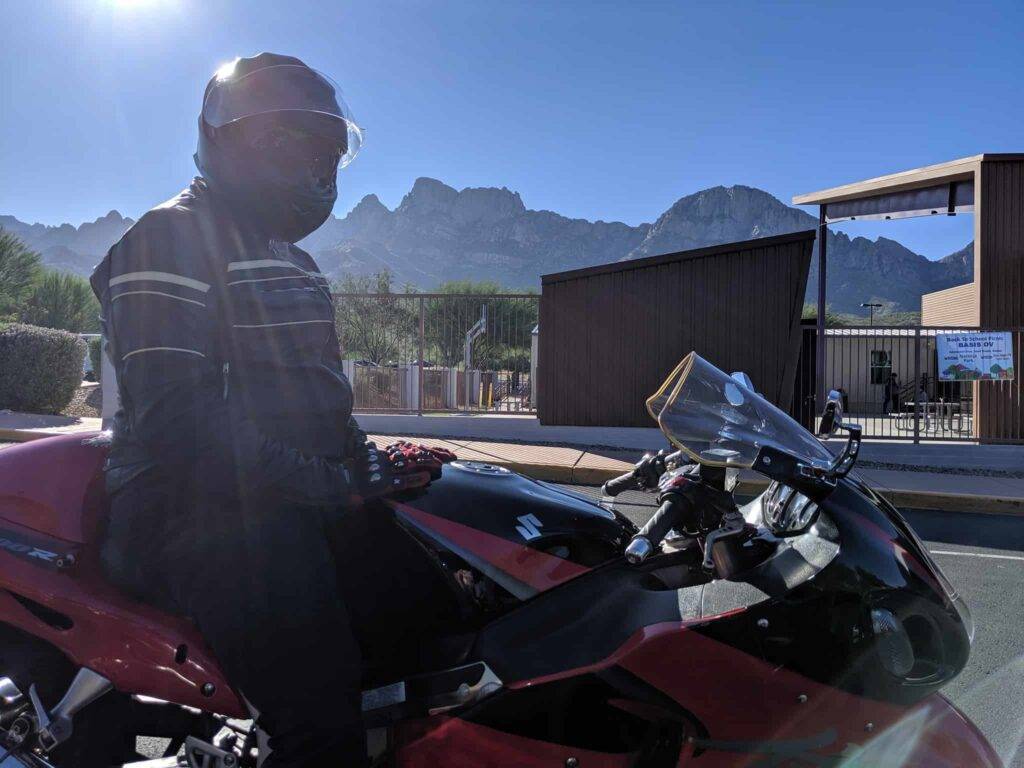 What to Do Before You Go to Mt. Lemmon
Download the free Mt. Lemmon Science Tour by U of A app on your phone. You may not have phone service on the way up, so use the app to learn about the history of the area and other fun facts.
Fill your gas tank. The drive up is an hour long, and you don't want to get stuck!
Take your time. There are many pull-outs to stop and get photos. Also, if you notice people behind you, use the pull-outs so they can safely pass you. Don't speed; you will get a ticket! (Thanks for the tip, Rob!)
Pin your favorite picture to save for later!