This post may contain affiliate links which means I receive a small commission at no cost to you when you make a purchase. As an Amazon Associate, I earn from qualifying purchases.
If you're new to homeschooling, or adding another child to the mix, you are probably nervous about homeschooling multiple ages at once. The most important thing to remember during this time is to BREATHE. You've got this!
How to Homeschool Multiple Grades at Once
Start with assessing where each child is, individually. This will make it easy to pair children up together on assignments, and will help you with your plan of attack for each day. We do this with our one week science lesson plan (it's free, go grab it!).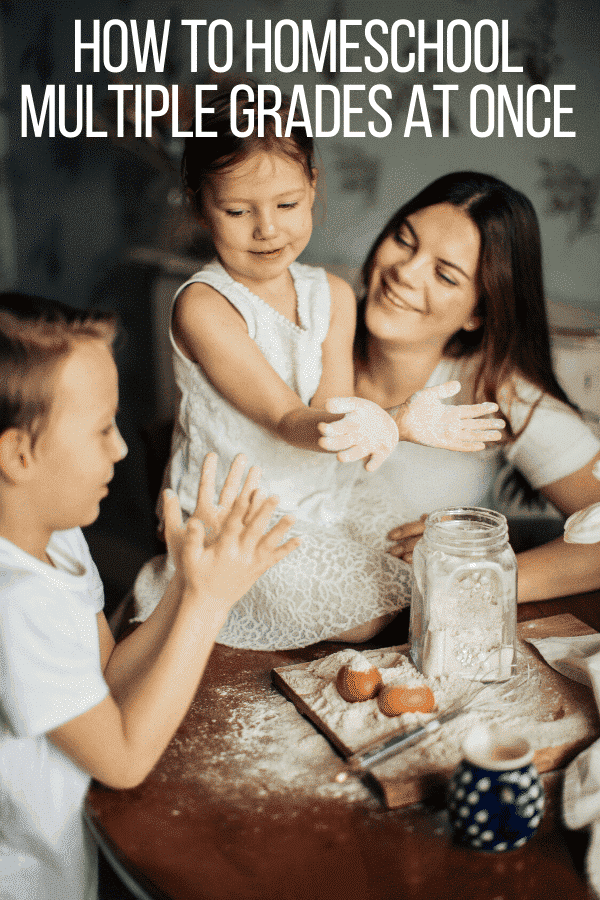 Homeschooling Schedules for Multiple Grades
Homeschooling only takes a few hours a day, total, for most of us. Here's an example based on my homeschooling experience:
Kindergarten & 1st Grade – 30-45 minutes per day
2nd Grade & 3rd Grade – 1 hour a day
4th Grade & 5th Grade – 1 hour and 30 minutes per day
Middle School – 2-3 hours per day
High School – varies greatly, 2-5 hours per day
These aren't hard and fast rules or time limits by any means, they're based on what I've experienced with homeschooling each grade. We've also done eLearning from home through a public school, so I'll talk about that next.
Homeschooling multiple grades is a lot easier than most people imagine. The topics covered can be similar for each child, but you'll need to add/subtract content based on what your child is capable of. For example, if you're covering Black History, your 2nd grader may do a lapbook project about Harriet Tubman while your high schooler may do a full research project with an essay.
In fact, your high schooler could come up with project ideas for your younger kids as part of their learning. This will be especially helpful if your older child(ren) plan to be teachers or teaching assistants if they decide to go to college.
eLearning from Public School
If you're doing school at home because of school closures or because you chose a K-12 online program, that's a bit different than traditional homeschooling and you'll need a different approach.
There are a few ways to teach multiple grade levels at home with eLearning. Hopefully, your child's teacher(s) will help quite a bit. If they don't, you may need to reach out and ask for additional help – especially if you're a parent that is terrible at one (or more LOL) subjects. I'm speaking from experience here! Math is my nemesis.
Sample Schedule:
Child 1 – eLearning from 9AM til 11AM, focusing on subject(s) they struggle with
Child 2 – eLearning from 1PM til 3PM, focusing on subject(s) they struggle with
Child 3 – eLearning from 5PM til 7PM, focusing on subject(s) they struggle with
The hours in between the two focused hours they get with you will be spent on covering the subjects they can handle on their own. You may or may not need the full two hours to teach the difficult subject(s), but I can guarantee a break between these sessions will serve everyone well.
If your children are younger or have issues concentrating, you may break those up into one hour increments. It could look something like this:
Child 1 – eLearning from 9AM til 10AM, focusing on subject(s) they struggle with
Child 2 – eLearning from 11AM til noon, focusing on subject(s) they struggle with
Child 3 – eLearning from 1PM til 2PM, focusing on subject(s) they struggle with
You may have noticed, eLearning takes up a LOT more time than regular homeschooling does!
Keep snacks and drinks on hand, and have everyone use the bathroom prior to their one hour learning time. If they get up, the timer is paused and will resume when they come back. This is another good reason to have at least an hour in between each learning session. If Child 1 stalls for 20 minutes in the bathroom, it cuts into Child 2's learning schedule, which is unfair. The goal here is to minimize distractions and stalling, and to keep each child learning separately so they can get your undivided attention for that hour or two each day.
If you have the mental energy to teach more than one child at once, that's great! A sample schedule may look something like this:
Child 1 & 2 – eLearning from 9AM til 11AM, focusing on subject(s) they struggle with
Lunch at 11:15-11:45
Child 3 – eLearning from Noon til 2PM, focusing on subject(s) they struggle with
Kids can also work together! If Child 1 is in high school and Child 3 is in elementary or middle school, enlist Child 1's help for math or another struggling subject for Child 3. This gives Child 1 a break from their own work, and gives Child 3 a chance to have a different teacher for the moment.
My best tips for homeschooling multiple grades
I bet you already have some ideas swirling around in your head, perhaps you've even taken some notes (yay!). Are you ready to tackle homeschooling multiple ages and grades? YES! You just have to believe in yourself – and your kids.
Here are some of my best tips, in random order:
Read together.
Reading aloud is beneficial for the reader and the listener. It can help kids of all ages with reading comprehension, to be both a reader and a listener. While it can be difficult to find books that elementary and high school kiddos can agree on, I bet you can talk to your kids about the genres they like and find a happy medium.
Nothing beats holding an actual book in your hand, but there are many free online reading sources as well.
Follow your reading sessions up with some hands on learning. Older kids can draw comic reels to reenact the chapters you just read as a family, and younger kids can color them in. Younger kids can "dictate" and older kids can write.
There are so many ways to read together and expand on that reading afterwards. We always work in some spelling and vocabulary words, too. Have the older kids find vocabulary words ahead of time, and help the younger kids define them. Work together as a family to use the dictionary and thesaurus to look up definitions as well as synonyms.
Pull a kid up.
What I mean by "pull a kid up" is, if you have kids that are only a year or two apart, you can try to pull the younger kid up to the higher grade so both kids can work on similar projects and assignments. This doesn't always work, but I know my middle daughter was 3 grades below my oldest daughter at one point, and they quickly ended up on the same level without me even trying to do it on purpose! Kids will amaze you, if you let them.
Try new things.
Try lapbooking, notebooking, and even work boxes. There are SO many ways to homeschool, and it is going to take some trial and error to find your perfect homeschooling rhythm.
Keep an open mind when trying new curriculum choices or styles like notebooking.
Work together, but don't force it.
If for some reason certain kids don't get along on a regular basis, don't force them to work together all day every day on assignments. Including them in the read aloud sessions or group projects is a great idea, but especially if you're just homeschooling temporarily, don't force them together.
My younger two kids are so opposite, they don't get along for more than five minutes at a time. They learn in different ways, express themselves in different ways, and overall just do better when they get 1-on-1 time with me. I respect this and have worked to make it happen.
Practicing independent work is as important as learning how to work together. As your children get more and more independent (yes, it's okay to allow them to work independently as much as possible so you can get other stuff done!), they will find themselves being able to get along with their siblings for longer periods of time. Okay, so this isn't ALWAYS the case, but I've found if my kids are able to enjoy their alone time and work by themselves, in their own area,
Unit Studies are your friend.
Unit Studies are one of my favorite ways to teach. An example of a Unit Study would be if you chose to learn about dogs. Your kindergartener can color pictures of dogs, count the spots on the dogs, circle matching dogs on worksheets, etc while your middle schooler can talk about more scientific aspects of the animal. Your high schooler could do a "day in the life" of a veterinarian and learn about dogs that way.
You can do a Unit Study on literally any topic, and generally speaking, these Unit Studies translate across all subjects. So you aren't "just" learning about dogs, you're learning math, science, spelling, and working on writing skills as well. Throw some colored pencils in the mix and you've got art class, too!
Unit Studies make teaching multiple grades a breeze, because all children can be learning about the same topic… just on their level!
Know when to walk away.
No, I'm not talking about walking away from homeschooling! I'm talking about knowing when to walk away from schoolwork for the day. We have the freedom of doing "school" for just a few hours a day, because our children are learning everything with each experience we immerse them in. Know when to walk away from the worksheets and YouTube videos and take a trip to the zoo. Know your child's triggers and signs before a meltdown happens, then table the schoolwork for another time. This is true for homeschooling only one child, too! Especially a high needs child like ours. Wheeewwwww!
Amazon and the Amazon logo are trademarks of Amazon.com, Inc, or its affiliates.