Ninja Foodi Best French Toast
This post may contain affiliate links which means I receive a small commission at no cost to you when you make a purchase. As an Amazon Associate, I earn from qualifying purchases.
I must start this post off by saying the Ninja Foodi is the best kitchen gadget I've ever purchased, with the second best being the Ninja Supra blender/food processor set. I guess you could say I'm a HUGE fan of the brand, but honestly even if the Foodi was made by someone else, I'd have to tell y'all how much I LOVE it. It's saved me time and tons of counter space. Plus, it makes amazing food – like this Ninja Foodi Best French Toast. It's quite possibly the best French Toast I've made in my life. And let me tell you, I've made a LOT of French Toast in my 34 years.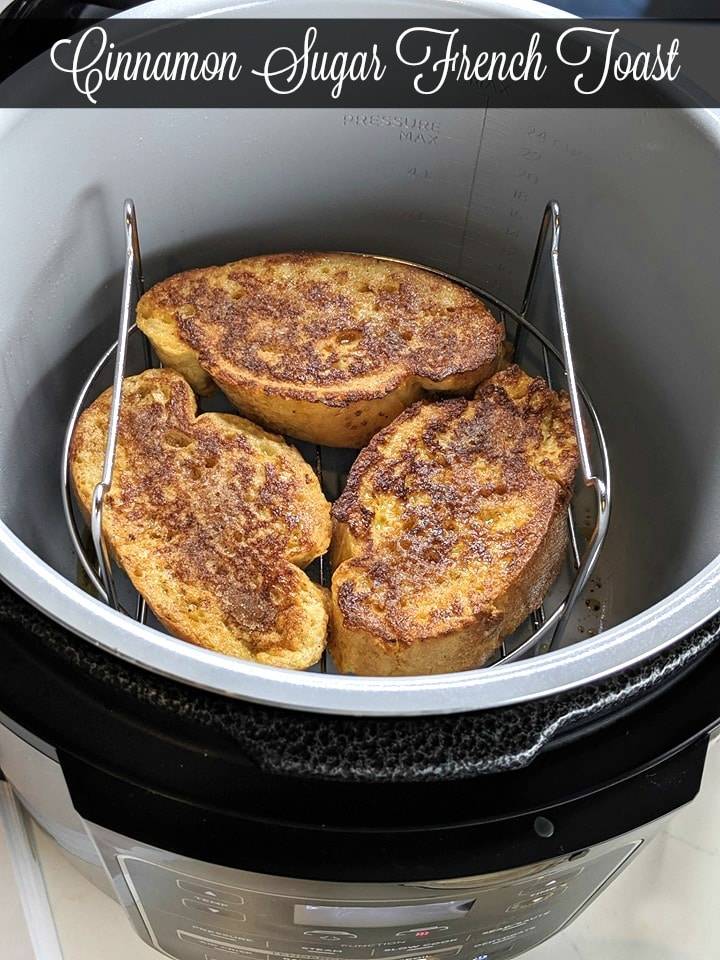 Pssst… Have you checked out the rest of my recipes?
Ninja Foodi Best French Toast
Why would you take the time and energy to make French Toast in the Ninja Foodi when cooking it on the stove in a skillet has served you well for all these years? That's a great question, and one I asked myself before I started making this recipe. I wondered how it would be better, if it would save me time, and how the clean-up would be.
Because you're using the saute' feature instead of waiting for the Foodi or Instant Pot to come to pressure, the time it takes to make this French Toast is minimal. You'll cook each piece for a few minutes on each side, and follow up with a few minutes of crisping time in the Foodi. While it's cooking, feel free to make some sausage and/or scrambled eggs in the skillet.
Clean-up with the Ninja Foodi is a breeze because of the nonstick pot that goes inside. It's as simple as cleaning up a nonstick skillet. The Instant Pot seems to be a little tougher to clean, especially when food gets stuck on.
The real question is: does it taste better when you make French Toast in the Ninja Foodi? The answer is YES! I love the crispness without having to put it in the oven and broil it.
How to Make the Best French Toast
The best French Toast starts with the best ingredients: French bread, heavy cream, vanilla bean paste, and cinnamon.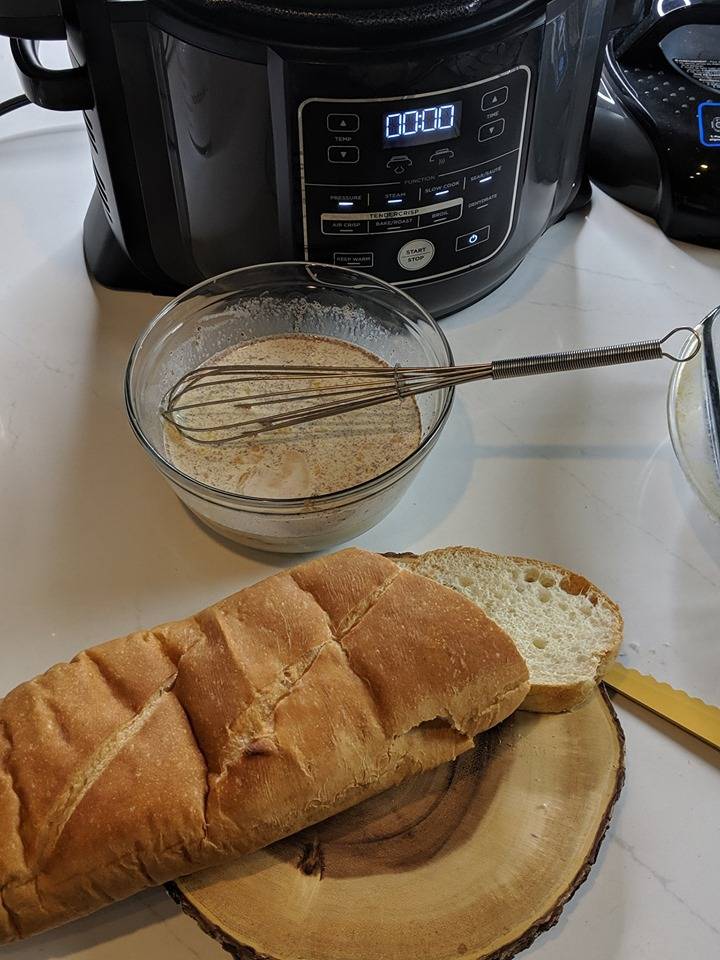 Obviously, you need eggs, too, but the key to making delicious French Toast every time is all in the details. Using heavy cream instead of regular milk, using vanilla bean paste instead of imitation vanilla extract, and using lots of cinnamon ensures the best French Toast every. single. time.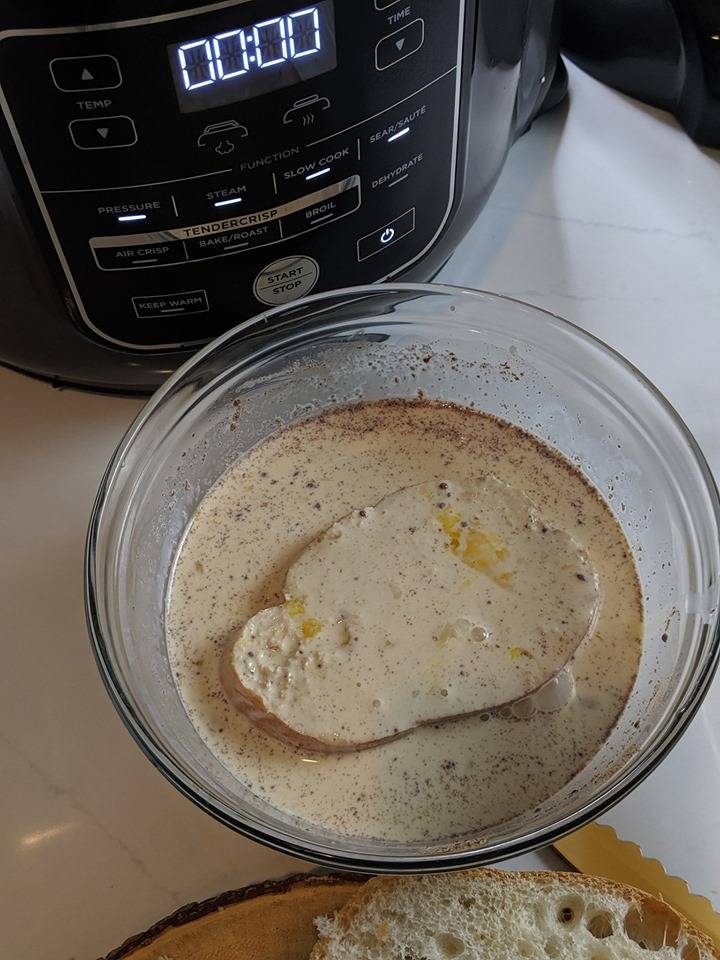 I used to dip my bread in the egg mixture really fast and pull it out because I was afraid it would get soggy. I started using French bread and dipping the bread twice, and it couldn't be more perfect.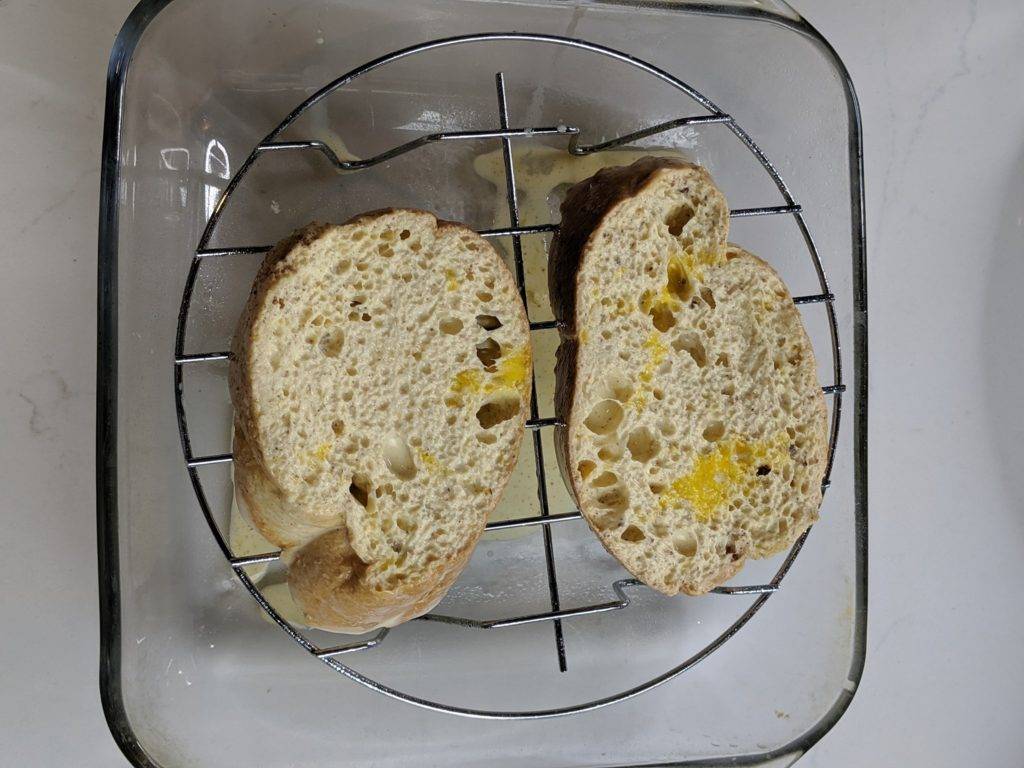 If you're using regular bread, stale-ish bread works best. You don't want the bread to be soggy when you start to cook it, so make sure you use a wire rack to let the bread sit for a minute or so before adding it to the Ninja Foodi or Instant Pot.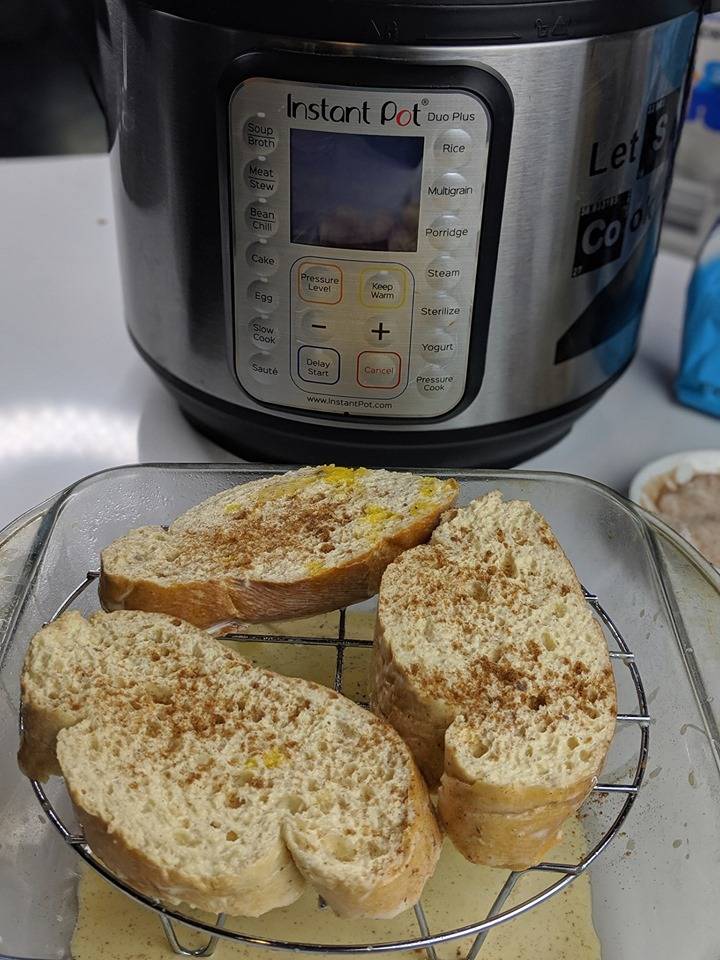 I really love cinnamon, so I sprinkled a little extra on top before I put it in the pot.
How to Make French Toast in the Instant Pot
It's easy to make French Toast in the Instant Pot. Follow the instructions below for the Ninja Foodi, simply transferring to the oven to broil for a minute or two after you've cooked it in the Instant Pot.
Your Instant Pot can saute' just like the Foodi can! The difference with the Foodi is that you can also use their crisping technology (basically an Air Fryer) to make the cinnamon and sugar caramelize and crisp up in the same pot. I love that the Foodi replaces my Instant Pot, Air Fryer, Slow Cooker, and Dehydrator. It takes up less counter space than even two of those gadgets, so I'm happy and so is my husband (he's forever eyeballing me about my "messes" LOL).
How to Make French Toast in the Ninja Foodi
If you don't have a Foodi yet, I recommend getting one on Amazon. I've seen them for as little as $199. We paid about $260 for ours but we got the 8qt and it was not on sale when I grabbed it.
Ninja Foodi French Toast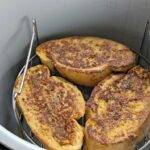 Making French Toast in the Ninja Foodi or Instant Pot is EASY!
1 cup heavy cream
1 cup milk (any percentage is fine)
6 large eggs, whisked
2 tsp cinnamon, divided
1 tsp vanilla bean paste (imitation vanilla is okay but isn't as tasty)
1 tsp honey
nonstick cooking spray
1 loaf French bread
1/2 stick butter
1/2 cup sugar
Mix heavy cream, milk, whisked eggs, honey, vanilla, and 1 teaspoon cinnamon in a bowl. Mix the other teaspoon of cinnamon with the sugar in a separate bowl and set aside.

Using a baking sheet to "catch" the excess, place a wire rack on top and spray.

Cut French bread into 1" slices. Dip bread in mixture, one at a time. Flip over and dip again. Place the bread on the wire rack. I did 3 slices at a time due to the size of my wire rack and Foodi (8qt)

Select Sear/Saute' on your Ninja Foodi or Instant Pot. Adjust to medium-high heat, add a tablespoon of butter.

After the butter is melted and hot, add your soaked bread to the pot. Cook for about 3 minutes on each side, transferring French Toast to a (clean) wire rack after it's browned on both sides (and no longer soggy in the middle).

Wipe the inner pot out if there's butter left in it, then place the bread on the wire rack in the pot. Close the Crisping Lid.

Select Broil, adjust the time to 2 minutes, hit start.

Once the 2 minutes is up, spray the bread with non-stick cooking spray and sprinkle cinnamon-sugar mixture on top. Close the Crisping Lid again and Broil for another 2 minutes. The cinnamon-sugar mixture will crisp up beautifully.

Serve plain or with powdered sugar or syrup.
After the butter is melted and hot, add your soaked bread to the pot. Cook for about 3 minutes on each side. With my first batch, I cooked on medium heat and ended up with soggy bread even after 7 minutes on each side. Cook on medium-high and keep an eye on it as the pot heats up, being sure to add more butter between batches.