This post may contain affiliate links which means I receive a small commission at no cost to you when you make a purchase. As an Amazon Associate, I earn from qualifying purchases.
As you know, we're planning a wedding on a budget! I've been looking at plus size wedding dresses for a few weeks now and boy oh boy… saying my eyes are glazed over is an understatement.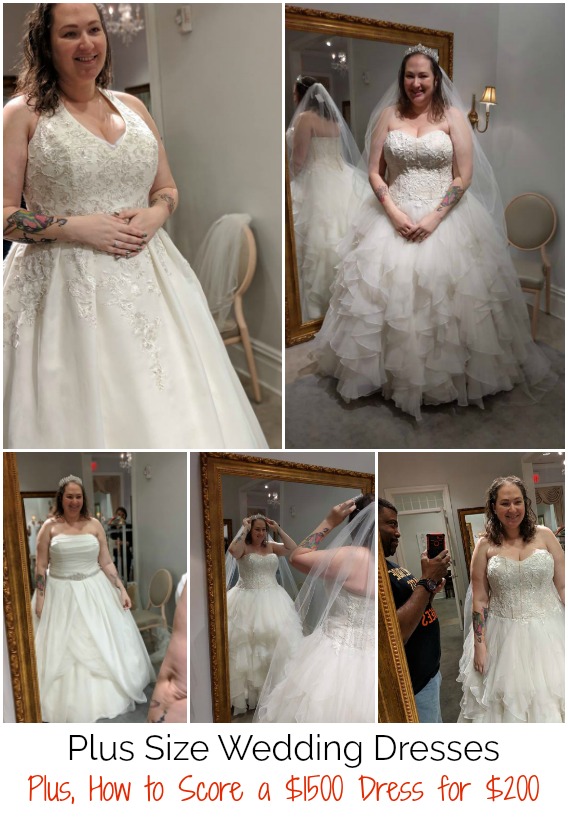 Plus Size Wedding Dresses
I've looked at colored wedding dresses but have only tried on ivory so far. David's Bridal didn't have anything but ivory, white, and *gag* pink available to try on in store. I've found a few places that offer wedding dresses in bold colors.
One of our wedding colors is burgundy, so I may end up in a burgundy wedding dress! Honestly I have no idea. There are just so many choices! I hope this post helps you pick your plus size wedding dress (or any size wedding dress, really!). If you have tips, please share them in the comments so I can add them and help other brides-to-be.
Most Flattering Wedding Dress Style for Plus Size Brides
I found an infographic on Pinterest that had ideas for the most flattering wedding dress styles for plus size brides. The thing is, "plus size" is not universal… by any means.
I know many plus size women who get frustrated because most plus size clothing is geared towards women with large chests. Not all plus size women have DDD breasts. Just like not all plus size women are 5'10" or taller (the clothes seem to get longer as you go up in size). Saying "this" or "that" wedding dress is the most flattering for you because you're labeled as "plus size" is ridiculous. So, how do you find the right dress for your figure? I was on a mission to find out!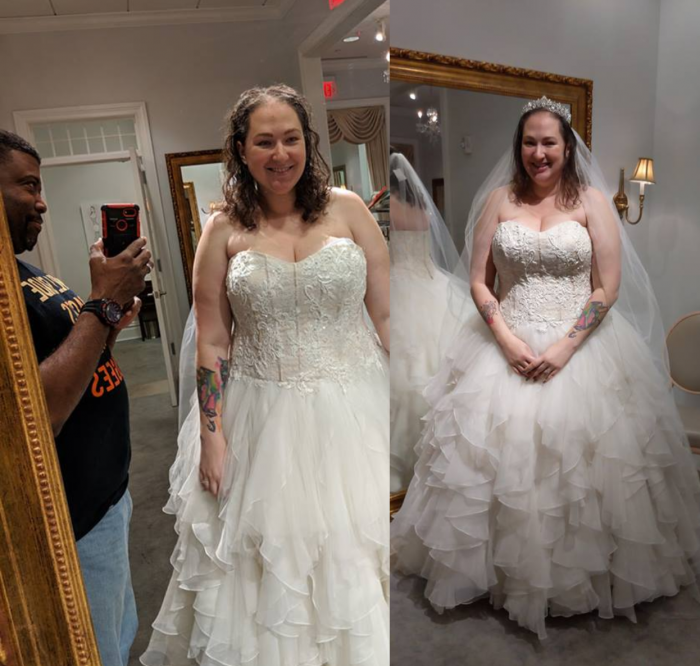 I knew I didn't want a mermaid style dress or anything like that, because I don't really have curves. I'm not one to wear dresses too often (and I've never had a wedding dress, even though I've been married twice before!), so I was clueless.
My wedding Pinterest board started filling up quickly and I noticed a trend: I am obsessed with ball gowns – the type of dress that is tight up top and SUPER full of layers of tulle at the bottom… yes, I'm that girl. I want all the bling and all the fluff! Don't worry about ball gown dresses making you look bigger. They slim your midsection so you actually end up looking thinner if you're built like I am.
If you're looking to be a little more low-key, there are definitely other flattering plus size dresses to choose from.
Things I wanted to be mindful of:
– Arm fat: how does the dress flatter my arms? I noticed sleeveless dresses made me feel like I had a "muffin top" of arm fat. No bueno.
– Boobs: does the dress show them off? My boobs are my best physical feature (besides my eyes!), so I'm definitely showcasing those babies on my big day.
– Length: I'm 6'2″. Is the dress long enough? I want it to touch the ground. I plan on being barefoot (or wearing these "shoes"), so getting the perfect length is extremely important to me. Also, Kevin really wants my dress to have a train, so I'm looking at those as well.
– Bling: does the dress work well with the other bling I'll be wearing? A tiara or crown is a must, and I plan on having a sparkly veil, so does the dress flow with those or will it clash?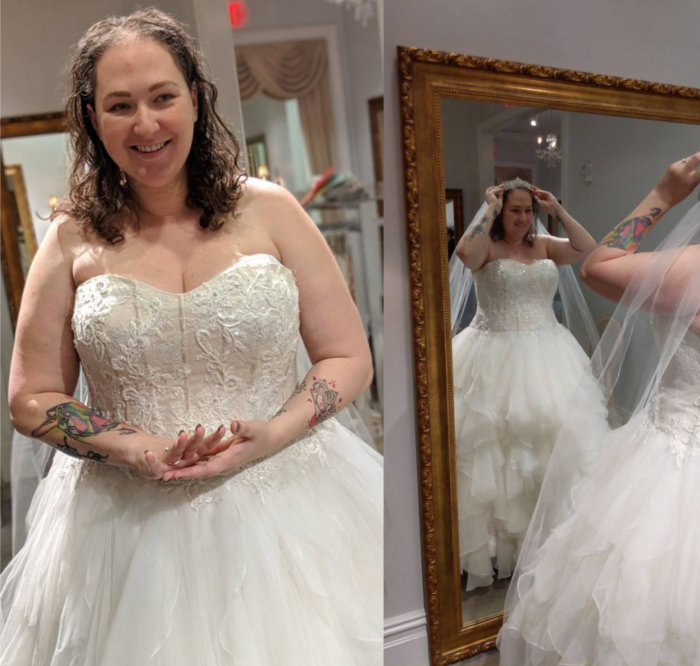 Write down your "must" haves, as well as anything you may be worried about (stomach, arms, whatever), and make sure the dresses you're looking at check off all the boxes. This is why it's important to visit a dress store and try dresses on in person at least once, to get an idea of how each style fits you (more on that later).
At the end of the day, it's not as important to worry about what is "flattering" as it is to worry about what you feel beautiful in. Your partner is marrying you and they think you're the most gorgeous human on the planet. Don't let a little arm fat discourage you from picking out an amazing dress for your big day.
How to Get a Cheap Wedding Dress
The sites listed below are going to help you find the perfect plus size wedding dress at a small fraction of the cost of a wedding dress from a bridal boutique.
Make a list of wedding dress boutiques (see my list below!). Visit each of the websites and check the Sale/Clearance section. If visiting in person, check clearance or sample racks. David's Bridal has $1500 dresses marked down to $99 on their website, though some of those same dresses were still $1000 in their actual stores. I don't mind slight imperfections, so if you're like me, that's another option: ask the sales staff if they have any "slightly imperfect" or returns you can look at. This can take a $2,500 dress down to $200 (or less) fast!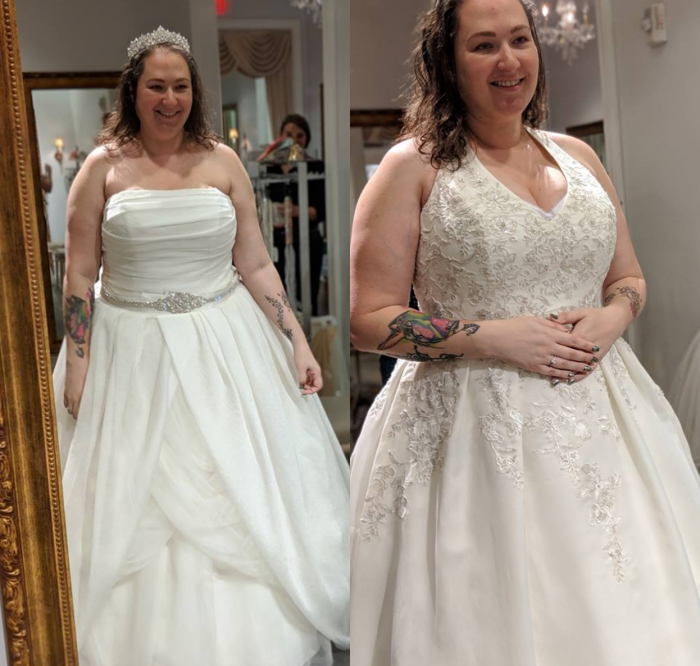 Best Plus Size Wedding Dress Sites
If you shop on any "regular" wedding dress site, you're going to find two things: a lack of plus size models, and super high prices. I'm not into spending $2K on a wedding dress, so I am ordering my wedding dress from one of these sites instead.
In the mood for a colored wedding dress? You're in luck! These websites have all types of dresses (mostly proms and quinces), so you're going to be able to get a colored wedding dress for a fraction of the cost of a regular wedding dress.
In order to make this list, these websites had to offer plus size wedding dresses for $200ish or less. If you know of others, let me know so I can add them!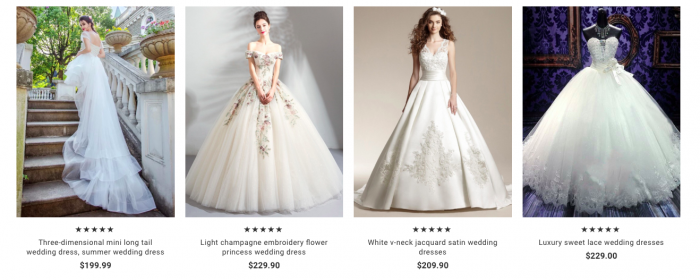 Eisenge goes up to size 16 but also offers custom sizing. This is great for those who are tall, or smaller on top and bigger in the hips, etc. Custom sizing is gold, especially when they don't charge extra for it (or charge very little).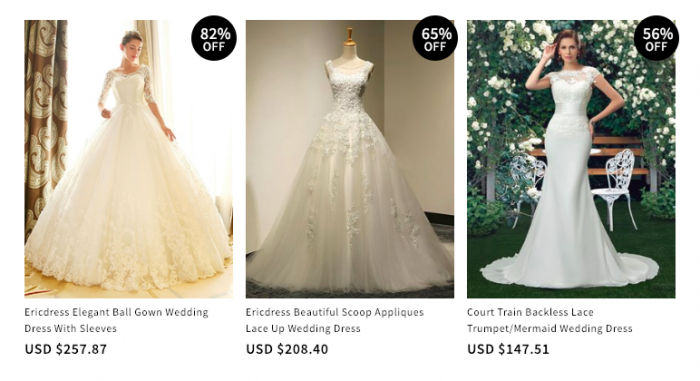 EricDress goes up to size 26W. Use code dress at checkout to save. The dresses on this website look awesome, but skip the accessories. Head to Wish instead. I saw some tiaras and crowns on EricDress for $20-30 that were $10 or less (with shipping!) on Wish.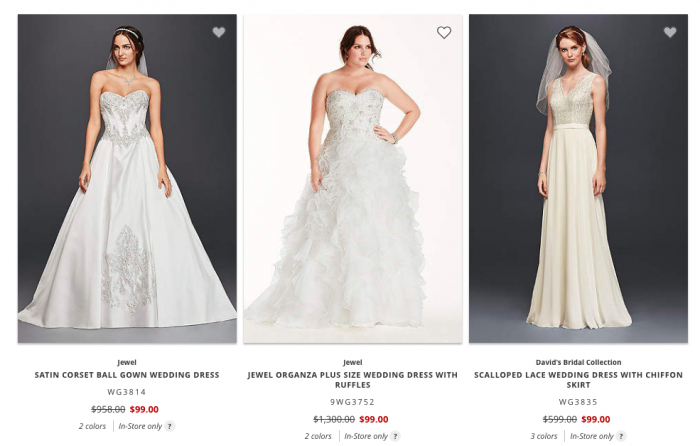 Your best bet with David's Bridal is their Sample/Sale/Clearance section. You'll find dresses that were originally $500-$2500 marked down to $99-$199! They stock sizes up to 30W. When I went in store to try on dresses, I wore a 20 but I heard that you should order up a size for a wedding dress. Then again, my jeans are a 22 so I feel like you should definitely go try dresses on first to make sure you're ordering the right size.
Hebeos, PromGirl, and IndieFit are other amazing options for plus size wedding dresses (and even for bridesmaid dresses). IndieFit offers custom sizing at no extra charge, too!
Coupons for Wedding Dresses
Use eBates to get cash back (EricDress offers up to 5% cash back with eBates, for example – this is where I buy accessories).
Then, stack eBates with coupon codes! How do you get coupons for a wedding dress? Well, I'm glad you asked. 😉 Most of these sites offer a coupon code in exchange for signing up for their email list. Sometimes that's only 10%, other times it's 25% (or more!). That can bring your $200 wedding dress down to $175 or less. WINNING.
Wedding dresses are fairly affordable on eBay and Facebook marketplace, but I'm not sure how I feel about wearing a used dress? I haven't decided yet.
If you ask around about dresses that are slightly "imperfect", you can snag the plus size wedding dress of your dreams for pennies on the dollar.
Tips for Buying a Wedding Dress Online
Check reviews. Some websites will have more reviews than others, but lots of reviews are fake! Reviews with photos are the best. Ask around on Facebook or in your group of friends to see if anyone has ordered from the websites you're looking at.
If you can't find reviews on the actual dress website, do a quick Google search "XYZ dress reviews" and see what comes up. You can also try "XYZ scam" to make sure there are no reviews talking about how the site you're ordering from is a scam. The ones I've listed in this post have good reviews and I trust them enough to order from them.
Compare prices. Many of these dress websites have the same dresses for half the price on a similar site. Create an account on each website and start a wishlist/favorites list. This will allow you to easily compare dresses from site to site with minimal effort.
Review the site's return/exchange policy. Some online dress shops don't allow returns at all. I don't feel comfortable ordering a $200+ dress and not having the option to at least exchange it. Read through their full return policy and make sure it's good before ordering.
After all of my browsing, we narrowed it down to two dresses. Spoiler alert: I bought BOTH of my wedding dresses on Amazon and they were gorgeous!
See our wedding photos to check them out!
Buying Wedding Dress Accessories on a Budget
I buy almost all of my jewelry and accessories from Wish and Amazon. Sometimes I'll shop on Etsy for them but it just depends on my budget and how quickly I need my stuff! Here are a few rings I ordered from Wish for less than $5 each. The quality is amazing (no green fingers).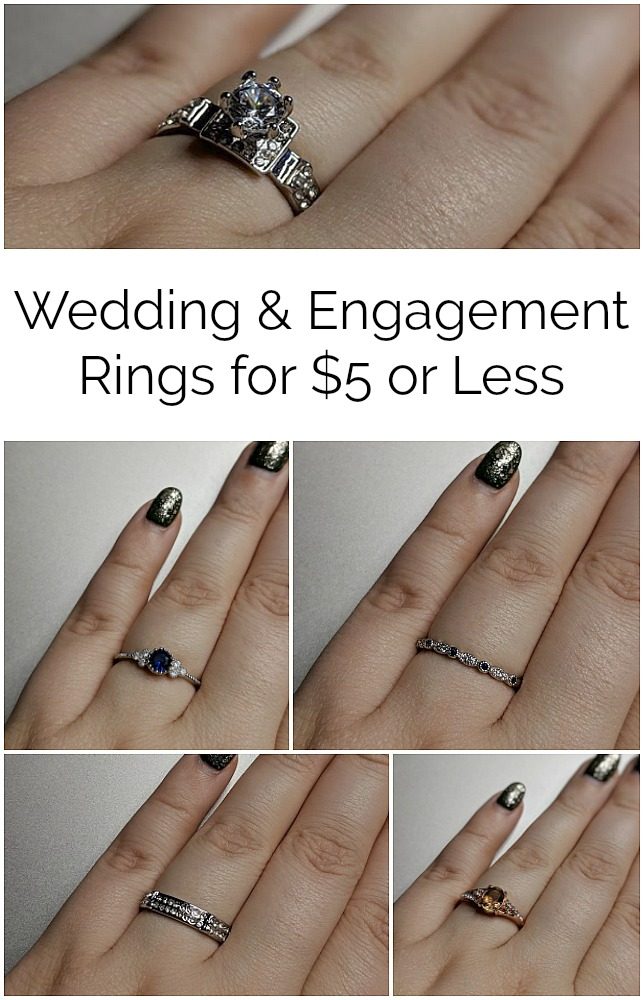 Amazon and the Amazon logo are trademarks of Amazon.com, Inc, or its affiliates.