This post may contain affiliate links which means I receive a small commission at no cost to you when you make a purchase. As an Amazon Associate, I earn from qualifying purchases.
Have you been to the Upside Down? Were you part of the Will Byers search team? Do you know Eleven? Are your friends crazy? How excited are you for season 3 of Stranger Things?! If you are anything like me, you are totally stoked and can't wait! That is why I decided to celebrate the first trailers by using waffles in a recipe, and I came up with a Stranger Things inspired waffle cake. I am hoping that Eleven will approve!
A Stranger Things Inspired Waffle Cake
Who is your favorite Stranger Things character? I have always related to Eleven, because things in our pasts emulate each other, in some ways! We also both have a thing for waffles. Yes, waffles, like EGGO waffles! I even made a waffle tiramisu, way before Eleven consumed her first waffle!
Down is up and up is down, in the Upside Down:
This is one of the simplest cakes you will ever make, and only a few ingredients is all it takes.
a few waffles, either frozen or homemade
whipped topping
black edible writing gel
different colored icing tubes
Start with a waffle on the bottom and add a nice layer of whipped topping.
I stacked my waffle cake 3 high, but you can add as many layers as you'd like.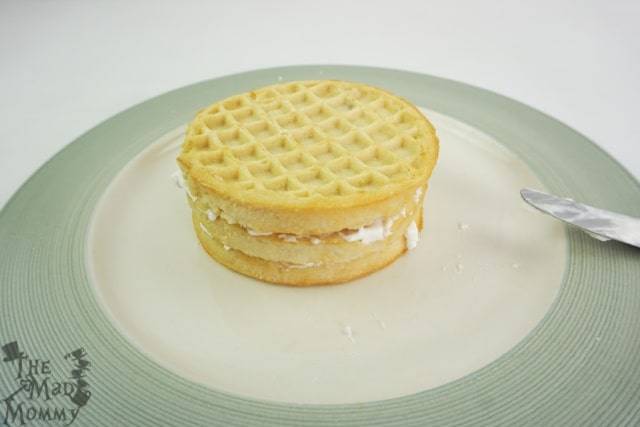 Once you have your cake stacked, take your edible black writing gel and draw your Christmas light lines.
After that, you'll want to add your different colored light bulbs,
There you have it. Your simple, yet oddly beautiful Stranger Things inspired waffle cake. Do you think Eleven would approve?
Share it with your friends, when season 3 of Stranger Things premieres on Netflix in July, or make it for yourself and hope that Eleven doesn't find out.
Stranger Things Inspired Waffle Cake
Waffles (frozen or homemade)
Spray Can Whipped Cream
Black GEL Writing Icing
Red Icing
Orange Icing
Blue Icing
Yellow Icing
Green Icing
Assemble the "waffle cake" by putting whipping cream between each layer, then drawing a loose "w" shaped line with the black writing icing, two times across the top waffle.
Add your lights, by using the colored tubes one at a time.
Serve!
Haven't seen it?
Check it out on Netflix or buy it on DVD.
Amazon and the Amazon logo are trademarks of Amazon.com, Inc, or its affiliates.