This post may contain affiliate links which means I receive a small commission at no cost to you when you make a purchase. As an Amazon Associate, I earn from qualifying purchases.
It is always fun to learn about different cultures and countries! It is so interesting to see how the rest of the world lives. Often times, we can explore through travel, but other times, we have to be content with touring the world from home!
Egypt has always been a land of mystery and wonder! It holds so many secrets of the past and is also, equally moving towards the future.
Here are 10+ fun ways to teach your kids about Egypt.
Here are 25 Fun Facts About Egypt. Did you know about #7?
Grab these free photos of Egypt for homeschoolers. They'd be great for lapbooks!
Check out 1 of these 15 Books About Egypt from your local library.
Learn some Hieroglyphics and write your name on your own cartouche!
Make some beautiful Egyptian necklaces to wear while you play Mancala.
Build your own 3D Pyramid and read up on facts about Egypt.
Make your own Abacus to count with and your own Sun Dial to tell time with.
Learn about the Egyptian Gods and Goddess while you enjoy some homemade Falafel!
You can always have fun wrapping up your very own Mummy!
Egypt is rich in history and culture. Many of the things that we use and believe in, originated in Ancient Egypt! I hope you enjoy these 10+ fun ways to teach your kids about Egypt!
Pin it for later!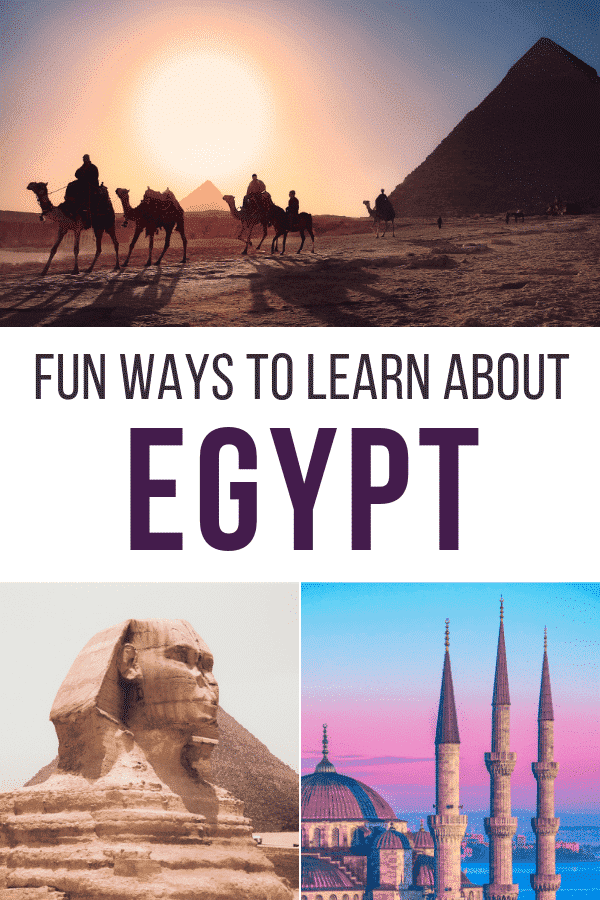 Amazon and the Amazon logo are trademarks of Amazon.com, Inc, or its affiliates.