This post may contain affiliate links which means I receive a small commission at no cost to you when you make a purchase. As an Amazon Associate, I earn from qualifying purchases.
My local Starbucks just closed for at least a few weeks, so in order to get my "fix", I had to get creative. Of course, Pinterest came to the rescue with a ton of ideas. Here are some of my favorites.
My #1 favorite Starbucks copycat is the Vanilla Sweet Cream Cold Brew. It's literally perfection in a cup. I drink it on a regular basis, and enjoy it poured over ice or blended, frappuccino style.
I use coffee beans from Superstition Coffee to ensure the BEST taste possible. If you're wondering, yes, they do ship! I just got a 5 pound bag of Veneto's blend in the mail last week. Should last me a few more days. LOL Just kidding. Lasts us about a month. Yum!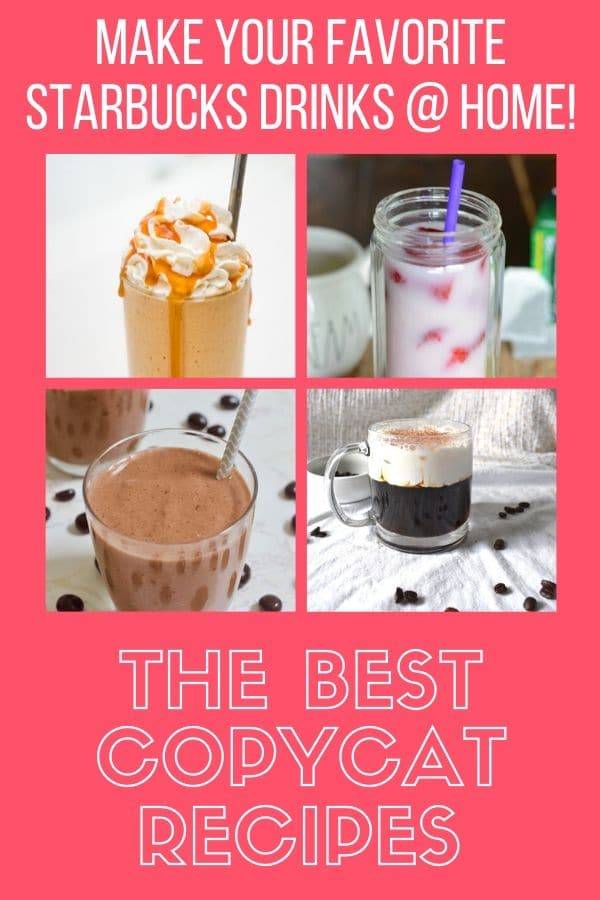 While not actually a Starbucks copycat recipe, my S'mores coffee is rich, chocolatey, and fully satisfying.
Make popular starbucks drinks at home
The Pink Drink! Holy cow, this drink took the world by storm and if you've tasted it, you know why. It's refreshing, light, and very… strawberry-y. What's not to love?
My barista friend tells me one of THE most ordered drinks of all time is the caramel frappuccino. I don't know if that's because this world is riddled with basic bitches such as myself, or if the caramel is just that good. Either way, bottoms up!
Hands down, the iced caramel macchiato is the most popular drink among my kids and their friends. So. Much. Caramel.
I've probably consumed about 5,000 of these from Starbucks: mocha frappuccinos. Maybe that's why my diet wasn't working. *shrug* Worth it.
S'mores frappuccino? Yes, please!
Best non-coffee Starbucks copycats
Vanilla bean frappaccinos are my daughter's favorite. I prefer chocolate drinks (and desserts!), but if you like vanilla, apparently this is "THE BOMB".
One of the only ways I like hot chocolate is if it's made like Starbucks makes theirs. It's super chocolatey, and richer than most other hot chocolates I've tasted. I've gotta try this version from Eating on a Dime. *adds to list*
Probably the most popular non-coffee hot drink, chai tea lattes satisfy everyone's craving for that spicy sweet flavor combination. I love this sweet, sleepy time version, too.
Feeling blue? How about green? That's a Kermit the Frog reference, not a seasick one. 😉 This green tea matcha latte is one of the best versions I've tried. The iced version is also pretty amazing, and equally as green. LOL
Seasonal and Holiday Drinks
Ah, those damn seasonal and holiday drinks. By the time I get hooked on them, they're gone again. I have no other choice but to make them at home now!
Of all the drinks at Starbucks, their pumpkin spice latte has to be one of the most famous, if not THE most famous of all. Lauren over at Midget Momma created her own copycat recipe at home and if you like the original, you're going to love it!
Christmas spirit year round? Heck yes! Make this copycat gingerbread latte at home and jingle all the way to the bank with the money you save.
Iced Starbucks copycat drinks
I prefer iced coffee drinks all day long, so that's what I make! 🙂
This iced cinnamon dolce latte is packed full of flavor. I drink iced coffee year round, but it's especially refreshing during the summer. Did you know Arizona temps soar over 110* on a regular basis? WHEW!
Speaking of refreshing, iced passion tea lemonade is probably one of my favorite summer drinks. I don't usually drink flavored teas but mix some tea and lemonade and I'm good to go!
Like watermelon? Make this watermelon passion tea… you may just find yourself with a new favorite drink in hand.
Love protein drinks and coffee? I was hooked on this one for a while, made with coconut milk especially: cacao protein blended cold brew.
Another favorite of mine for quite some time, salted caramel foam cold brew… there's just something about that damn foam that gets me every time. It's like you're drinking a cloud. So delicious.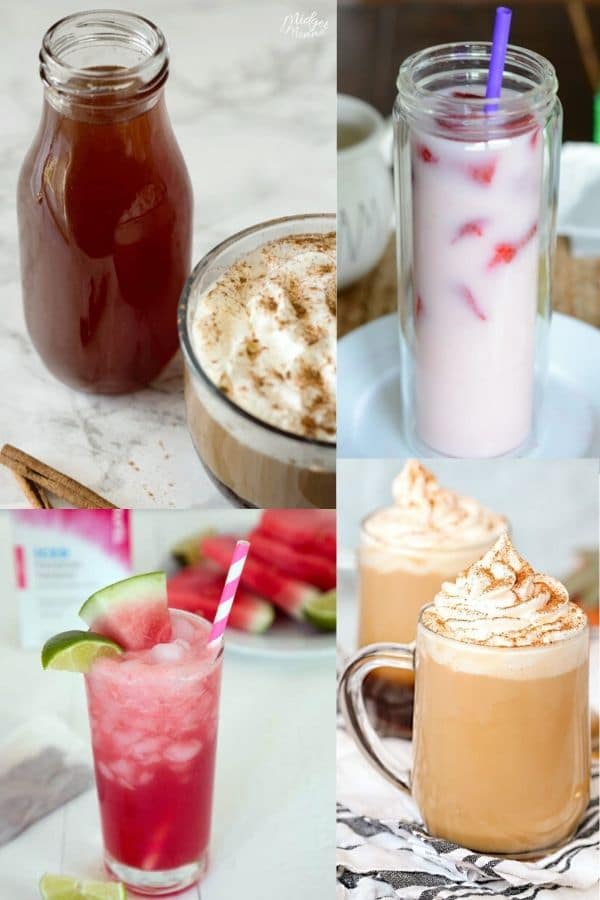 Other Starbucks drinks you must try at home!
So, what's YOUR favorite copycat drink? Let me know in the comments so I can try it!
Amazon and the Amazon logo are trademarks of Amazon.com, Inc, or its affiliates.