I'm not a doctor or an expert, I'm simply sharing my experience with thyroid cancer and the scar healing tips I used. Don't follow the advice of internet strangers, especially if your doctor gives conflicting advice. This post is for informational purposes only.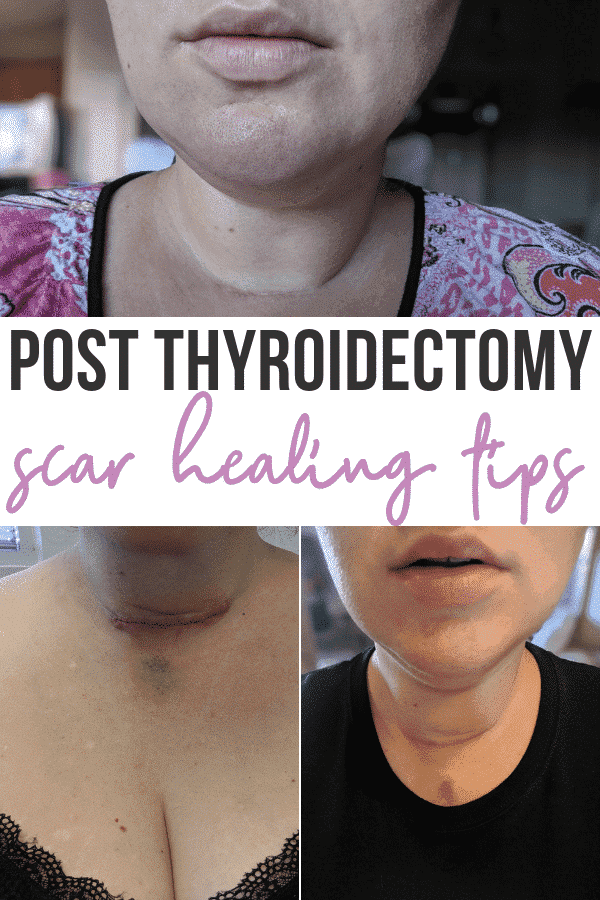 How to Treat Incision After Thyroidectomy
You can shower 24 hours after surgery (as long as your surgeon says so). I waited a few days to take a shower because I wasn't feeling the best, but I was allowed to shower within 24 hours. If you aren't feeling up to it, the world won't end if you miss a shower for a few days.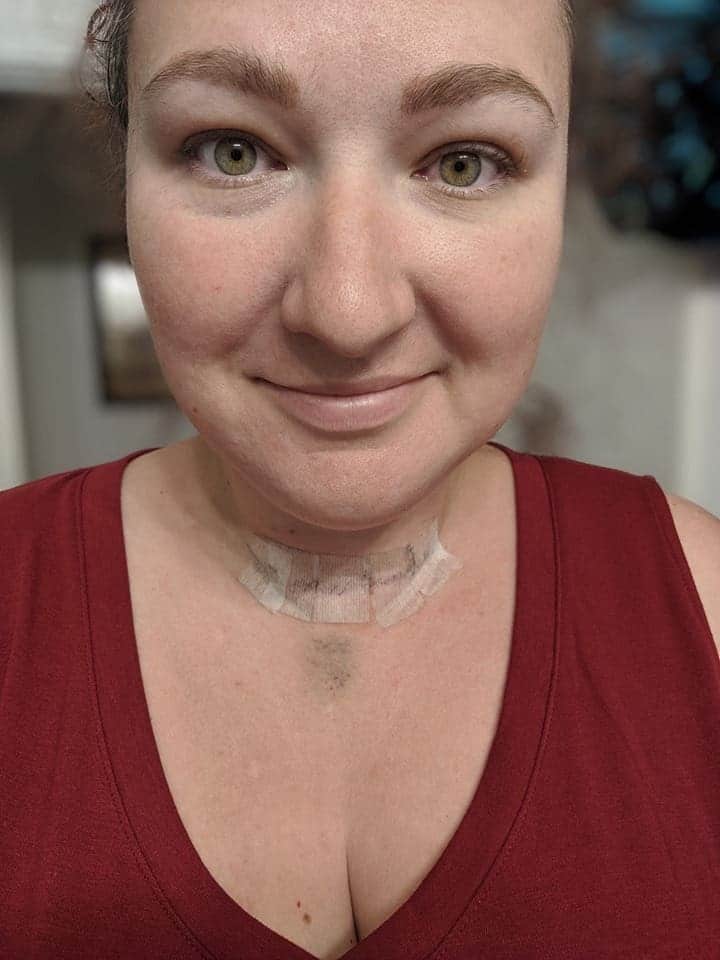 How Long Should Steristrips Stay On After Thyroidectomy?
Do not pull your Steristrips off until at least 7 days after surgery. In the shower, gently wash around (but not over) your incision with soap and water, trying to keep it as dry as possible. If you do get it wet, pat it dry. Do not apply lotions, ointments, or anything else to your incision during the first two weeks.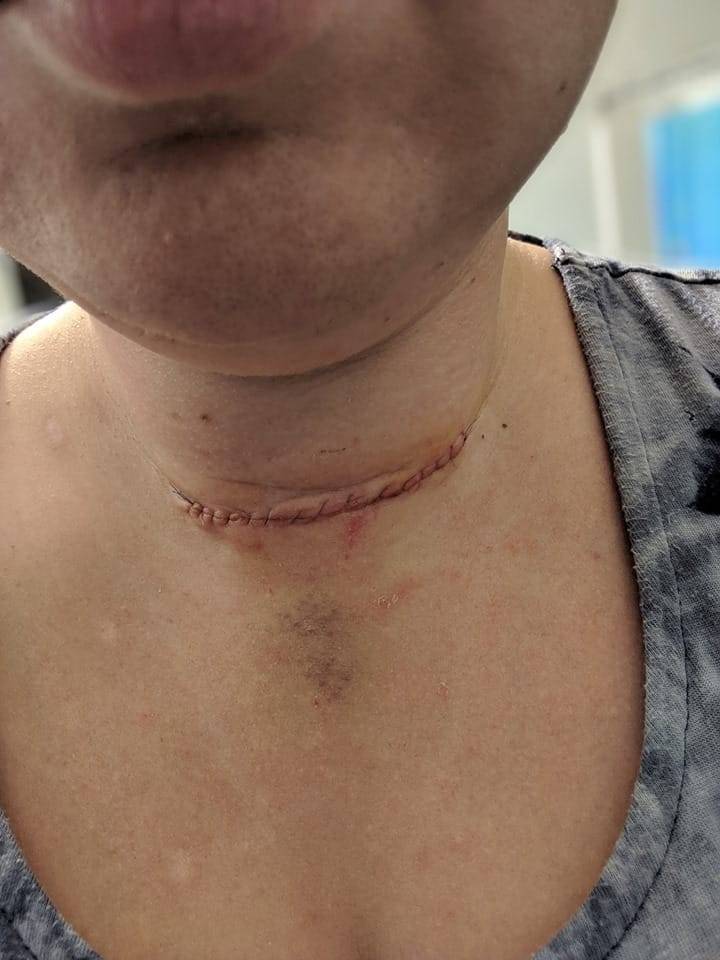 How to Make Your Scar Heal Faster
How quickly your incision heals depends on several factors, some of which are beyond your control (like how the surgeon stitched you up).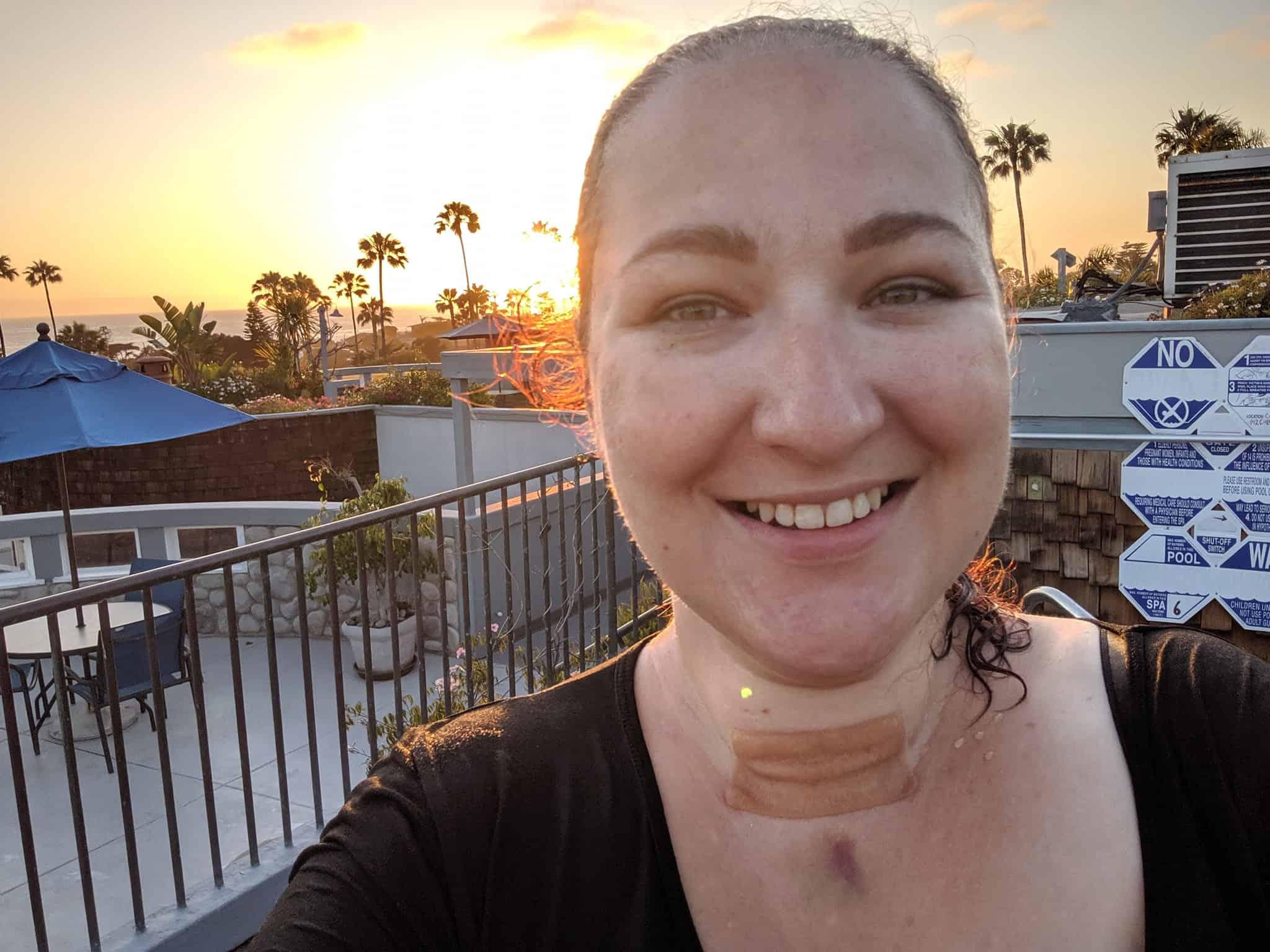 If I could give ONE piece of advice for post-thyroidectomy scar healing, it would be buy Scar Away sheets. They are expensive, but well worth the investment. I wore them every day for the first 3 weeks after surgery and my scar was barely visible from that point on!
Vitamin E Oil for Thyroidectomy Incision
My second piece of advice would be to use Vitamin E Oil after your stitches are removed. I bought the cheap stuff because one of the nurses at the hospital said it works just as well, and I am glad I took her advice. We have enough of this Vitamin E Oil to last a lifetime, and it cost less than $20! Kevin applies the oil to my incision a few times a week, and I always keep it covered when I'm in the sun.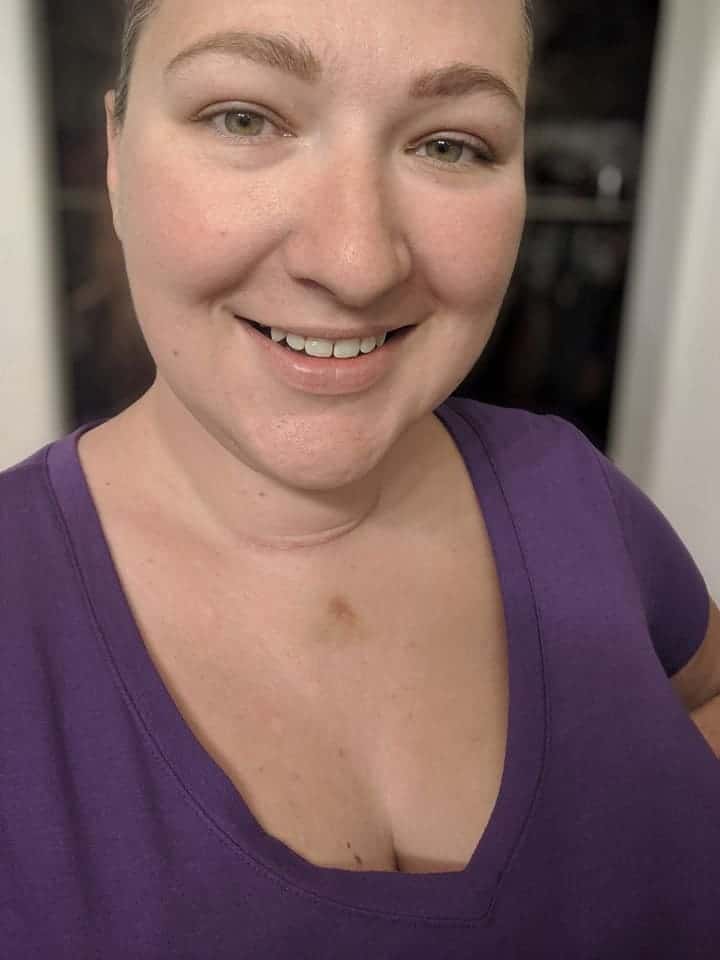 There is no guarantee that Vitamin E oil helps scars heal faster or become less visible, but I'm a believer. Two weeks after surgery, massage your scar gently but firmly (using Vitamin E Oil) for five minutes, a few times each day.
How to Cover Thyroidectomy Scar
There are two schools of thought amongst those who have had a thyroidectomy: "I want to cover my scar up", or "I want to wear my thyroid scar like the badge of honor it is". I caught a little crap about wearing scarves right after surgery, but it's a personal decision so don't let anyone make you feel bad whichever way you go.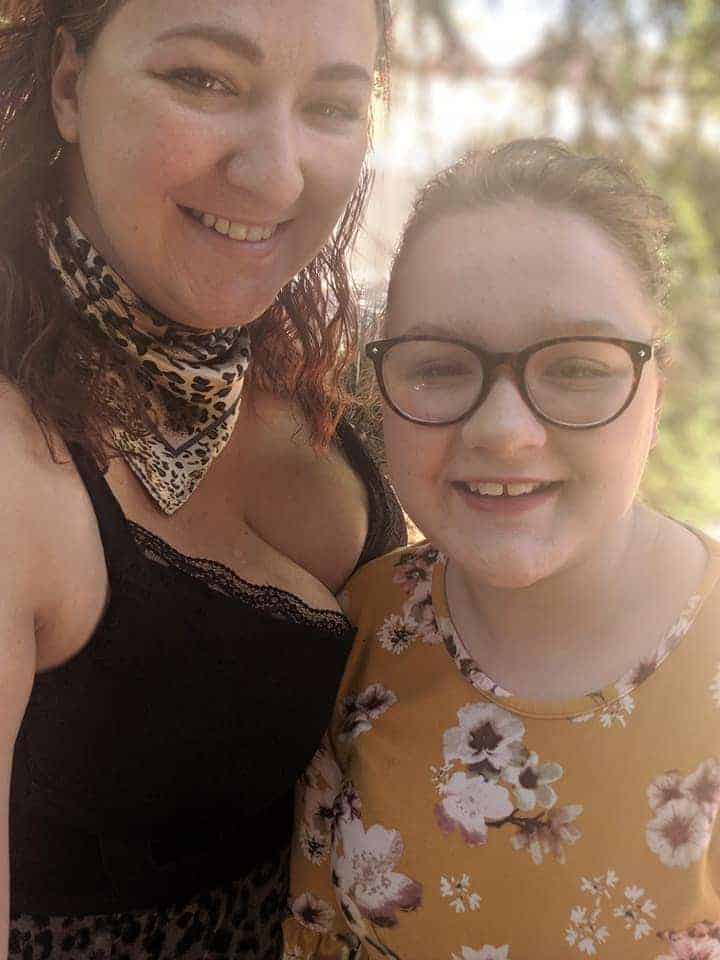 I wore – and still wear – silk scarves to keep my scar protected from the sun. My scar only took a few weeks to heal, but when anyone noticed it, they started a conversation. It may have been "I had my thyroid out 20 years ago" or just sharing a message in solidarity, but honestly I was so damn exhausted from my thyroid meds not working, I didn't want to talk to anybody. So sometimes I wore the scarves for fashion, sometimes I wore them to avoid conversation. Either way, I love my scarves! The ones I wear I got from Amazon for super cheap.
If you're looking for ways to accessorize, read this post: 10 Ways to Rock Your Thyroid Scar.
Pssst…! Hey, you! Yeah, you. 😉 I'd love to have you over in my free Facebook group. It's called Passive Income Pathways and it's where I teach you how to make money from home – without scams, spam, or bullshit. Hope to see you there!
Post Thyroidectomy Scars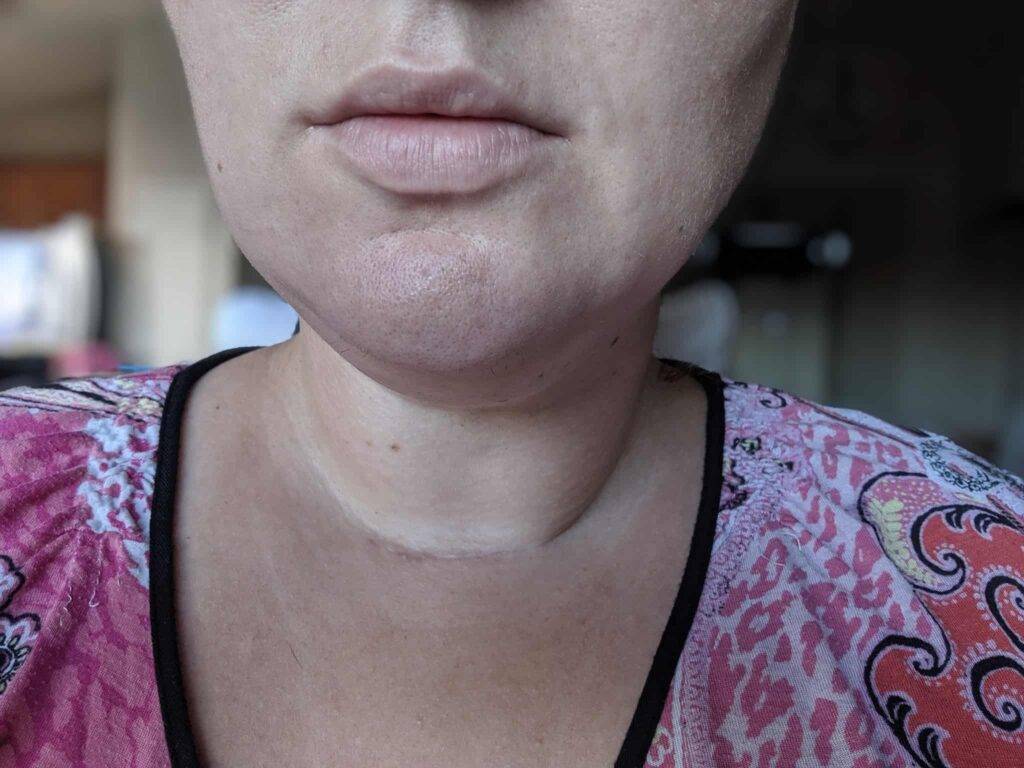 I loved looking at scars before surgery. Here are some 3 week post-op thyroid incision photos that can get you started down the rabbit hole if you're anything like me!